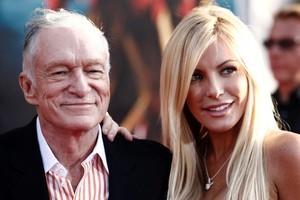 Playboy mogul and legendary Lothario Hugh Hefner has hit back at his ex-fiancé Crystal Harris after she dished the dirt on their sex life during a candid radio interview this week.
The former Playboy Playmate and runaway bunny bride discussed the former couple's sex life during a recent interview on The Howard Stern Show.
Asked by "shock jock" Howard Stern about their doomed relationship, Harris, who ditched Hefner just days before their June 18 wedding, took a few parting shots at her former fiancé.
"Hef doesn't really take off his clothes. I have never seen him naked," said Harris, 24, before revealing some rather unsavoury bedroom secrets.
Harris then said that Hefner, 85, had never turned her on and they only had sex once. She also revealed that, ahem, the deed was over in the blink of an eye, and that it lasted "like about two seconds."
Talk about a low blow. Class all the way.
"Then I was just over it. I was like, 'Ahhh.' I was over it. I just like, walked away. I'm not turned on by Hef, sorry," she explained.
Oh honey, I think Hef's chandelier-swinging days are long over.
Harris and Hefner announced their engagement in December 2010, and called off their nuptials just days before their much-publicised vow-swapping ceremony. Harris says she called it off because she had a "change of heart".
"After much deep reflection and thought I have decided to end my engagement with Hef," Harris wrote on her website in June. "I have the utmost respect for Hef and wish him the best going forward. I hope the media will give each of us the privacy we deserve during this time."
Harris also appeared on The View this week, and maintained that she's still friends with Hefner. Somehow, after the 'two second wonder' revelation, I doubt that's still the case.
Speaking on The View, Harris said: "We're friends. I've been there a few times since [the split]. It's just so hard going through a break-up publicly..."
She also added that it was "hard" seeing Hef with other women. "It's a break-up, it's hard on both of us - break-ups are hard. It's hard seeing Hef and it's hard seeing new people where I was," she added.
Harris has also laughed off reports she is now dating Jordan McGraw, son of TV personality Dr. Phil.
She recently said: "Jordan is one of my best friends, we've known each other for a year and he will continue to be one of my really good friends.
"Will we ever get together? We'll see."
If there is some fancy footwork going on between these two, they're not making a good job of hiding it.
A spy tells People.com that the pair were eyeballed "getting cozy" at Le Parker Meridien in NYC on Monday night.
"They were joined by two women who stayed for about an hour," says a snitch. "Crystal was drinking mojitos and laughing, and Jordan was sipping a drink on the rocks. But once their friends left, they really settled in and seemed more and more comfortable."
Cor blimey, it sounds like something lifted from a Barbara Cartland
novel.
And while Harris is busy getting over Hefner by exercising her motormouth, the big man himself is on the warpath.
Responding to Harris' interview on Sirius XM's Howard Stern Show, iconic ladies' man Hefner took to Twitter to vent his feelings.
"Crystal did a crazy interview with Howard Stern today that didn't have much to do with reality. Is she trying to impress a new boyfriend?" he wrote.
He added, "The sex with Crystal the first night was good enough so that I kept her over two more nights."
I'm official queasy.
He has since removed those messages from his Twitter page.
"Crystal lied about our relationship on Howard Stern but I don't know why," he added.
Hefner recently said that he believes he "dodged a bullet" when Harris jilted him at the altar.
"Frankly, I don't know what I was thinking about," he told Entertainment Tonight. "I think my natural state is single.
"I've tried marriage twice, not successfully. These were not the happiest times of my life."
He added: "After all is said and done, staying single is probably the best. I think I just missed a bullet."
Explaining his comments, Hef wrote on Twitter yesterday: "When I said, I missed a bullet' when Crystal left, I didn't mean I didn't love her. I meant I realised she really didn't love me.
"I feel sorry for Crystal. She seems lost.
"Crystal convinced me that she adored me. That was the first lie.
He adds: "I'm happy to be in a better place with new girlfriends Anna Sophia Berglund & Shera Bechard."
Ah, Hef's certainly moved on. Time to follow suit, Harris.
Oh, the scandal!
True split
Kate Bosworth and True Blood hottie Alexander Skarsgard have called it quits after nearly two years of dating, according to reports.
"It was very mutual," a source tells Us Weekly. "And it happened a while ago."
The pair were last snapped together at the Coachella Music Festival in April.
Gossip has it that Skarsgard, who plays vampire Eric Northman in the hit HBO series, was spotted flirting with a brunette during a bash at the Comic-Con festival in San Diego on July 21. He left the party with her, reports the mag.
"He's single," says a source, "and he is loving the attention!"
Ladies, rev up your engines!
In other Skarsgard news...
Check out the just-released teaser trailer for director Peter Berg's big-screen adaptation of Battleship, starring Taylor Kitsch, Brooklyn Decker, Rihanna, Liam Neeson and Skarsgard.
While it's supposedly loosely based on the classic board game, Battleship comes with a delicious dollop of naughty alien activity.
Oops, she'll regret that
Kat Von D and Jesse James may have called off their engagement, but the tattoo model and LA Ink star has bagged herself a permanent reminder of their relationship.
A sneak peek of the reality series' season opener shows that Von D got herself inked shortly before the love split - with a tattoo of James' face!
In the promo Von D surprises James with a tattoo on her left side, his face from a childhood school photo.
"I'm getting his face tattooed on me and he's about to see it and I'm like, I have no idea how he's gonna react," she says. "He walks in and he's like. 'Uh, am I supposed to be here, what's going on', ya know."
When Von D tells him she's nervous about giving him her "surprise", he replies that he loves it; coupled with a gushy "I love you."
Von D later quips in the clip: "I bet you're gonna tell me you're breaking up with me."
Now that's awkward.
Von D announced via Twitter on Monday that the romance was over.
She wrote: "I am no longer w Jesse, and out of respect for him, his family and myself, that's all the info I'd like to share. Thanks for respecting that. (sic)"
Blogger's Briefs
This lot just in...
* Airbrushed Julia Roberts ads banned in the UK
* Denise Richards opens up about Charlie Sheen's hotel meltdown
* Mag says there's a Jennifer Lopez and Ben Affleck reunion 'plan'
* Eddie Cibrian naked between the sheets for sexy photo shoot
* Katie Price fails world record book signing attempt
* Lauyrn Hill's mystery baby daddy: Not Rohan Marley
* Britney Spears' ex bodyguard: She's dirty
Blogger Bites Back
Please vote for this blog in this year's NetGuide Awards. Click on the graphic below, and paste this link in the 'Best Blog' box:
nzherald.co.nz/blogger-bites-back/news/headlines.cfm?c_id=1501366
Diolch yn fawr!