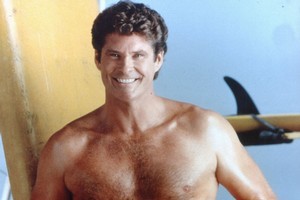 Bizarre baby plot: David Hasselhoff's ex-wife Pamela Bach is considering being a surrogate for ailing star Zsa Zsa Gabor and her kooky husband, according to a report.
Gabor's ninth husband, Prince Frederic von Anhalt, dropped a bombshell in April when he announced he wants his wife to become a mother again - at the ripe old age of 94.
Von Anhalt, 67, said he had paid a visit to a Beverly Hills clinic to donate his sperm and blood samples - the plan being for a surrogate mother to step in and use a donated egg.
Explaining his bizarre plans, he said he and Gabor had always wanted a child together, and that the subject arose after his Hungarian-born wife had part of right leg amputated in January.
"We talked about it, saying 'remember, we always wanted a baby, and now it's too late.' And I said to her, 'Well maybe its not too late,'" he said.
"Now my wife is in bad shape. I don't know how long she's going to be with me... I would like her to see the baby, I would like her to hear the baby screaming, to touch the baby's hair.
"If she dies before me, then I've nothing to live for," he said, adding that the whole shebang should set him back about US$100,000.
He also claimed that Gabor, who rushed to hospital again this week suffering from symptoms related to pneumonia, is down with the baby plans.
"She shakes her head, or she smiles, or she makes a bad face," he said. "But I know she likes the idea."
So does Gabor's only child, Francesca Hilton. Not a lot.
"Francesca is shocked but not surprised that vonanahlt (sic) continually creates publicity for himself at the expense of the legacy of her mother Zsa Zsa Gabor," her rep said.
"We are still trying to get over his wish to have Zsa Zsa's body preserved and displayed. What's next from von Anhalt? Zsa Zsa clones?"
For the love of humanity, don't give the man ideas.
And that's the last we heard of von Anhalt and his shenanigans. Until he was snapped shaking hands with The Hoff's ex Pamela Bach during a hot lunch date this week.
TMZ reported on Wednesday that the former wife of the Baywatch star has offered the use of her womb for, as the website so eloquently put it, "the future bun."
The scandal sheet reported that von Anhalt hadn't accepted her offer...yet.
"She was thrilled when I brought it up," von Anhalt told RadarOnline. "She said she'd do something like that even if it sounded crazy!"
However, as soon as TMZ's report was published, a rep for Bach blasted the claims, telling the website that she had made no such offer.
"We refuse to acknowledge the delusional ramblings of this man who clearly has done nothing more than plant a fictional tale in a desperate attempt for attention," the rep said.
"Our sympathy to Ms. Gabor who is an innocent victim of his shenanigans."
Done deal. Case closed. Not exactly...
Bach's publicist says he never made that statement. Yep, Bach is supposedly skirting around the baby plot after all.
"It's true," she tells RadarOnline.
"He (von Anhalt) did ask me about the possibility of me being a surrogate mom for them," she says.
"They (Zsa Zsa and Frederic) have expressed how they would be honored to have my genes for their child. As they've told me, Zsa Zsa and Frederic regard me as one of the most beautiful women they know, alongside Grace Kelly and Bo Derek."
Radar also reports that, wait for it, Bach is... "gestating the proposal".
"I'm flattered... from a standpoint it was asked of me," Bach said, adding: "I do wish them both all the happiness and share the love they have for each other."
Will she or won't she?
Only in Hollyweird!
Gaga combats leak
Lady Gaga's much-hyped video for new single Judas popped up online earlier today - hours before it was due to officially premiere.
The promo was due to air on E! on Thursday evening in the US, but emerged online this morning, prompting Gaga to upload the video on her official website.
"Stop leaking my motherf*****g videos," she supposedly wrote on her official Twitter page (the tweet has since vanished - if it ever existed).
The video, which sees the eccentric one cruising around on a motorcycle while portraying Mary Magdalene, is a "masterpiece," according to Gaga.
"The Judas video is a masterpiece!" she said. "I don't view the video as a religious statement. I view it as social statement.
"I view it as a cultural statement. It's a metaphor. "It's not meant to be a biblical lesson."
Check out the video below. Controversial? Blasphemous?
Blogger's Briefs
This lot just in...
* The Tudors star Jonathan Rhys Meyers checks into rehab
* What newlyweds Prince William, Kate call each other at home
* Pippa Middleton strips down, dances with half-naked man

* Brad Pitt and Courteney Cox reunite for dinner in Hollywood
* Cheryl Cole to judge Simon Cowell's US X-Factor
* Demi Moore and Bruce Willis 'at war' over daughter Tallulah?
* Hugh Hefner tweets wedding invitation

* Did Bristol Palin have plastic surgery?
* Marie Osmond and five other stars who remarried their exes
* Kate Hudson likes to call Matt Bellamy "baby-daddy"
And finally...
The second full-length trailer for Ryan Reynolds' latest flick, Green Lantern, the big screen adaptation of the DC Comics story, has debuted.
Check it out:
Blogger Bites Back
* Read more celebrity news and gossip from Myrddin Gwynedd (MG) here