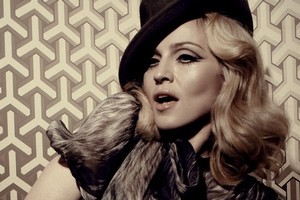 Madonna's estranged brother Christopher Ciccone was frozen out of the pop matriarch's inner sanctum after his devilishly delicious 2008 tell-all book.
Judging by his recent bout of lip smacking, he's just bought himself a one-way ticket to 'bro, you no longer exist.'
Oh brother, indeed.
Cast your minds back to 2008 and you'll recall Ciccone's captivating page-turner, Life With My Sister Madonna, which flipped the lid on the megastar's rise to fame, colourful sex life, and, in Ciccone's eyes, Madge's habit of using him as a doormat.
The tome also included juicy insights into her doomed marriage to Guy Ritchie (Ciccone blamed him for destroying his relationship with his sister. Ironic) and her devotion to Kabbalah, which Ciccone maintains, "has validated some of her bad behaviour."
And through it all Ciccone, who once served as Madge's personal assistant, maintained that his tome was not hatched out of a plan for revenge.
"I'm not taking revenge at all," he said.
"I'm telling what I consider to be a great tale."
Madonna's lovers are 'distractions'
Ciccone hasn't spoken to his sister since the book was published. But that hasn't stopped him from speaking out about her - again.
In an exclusive interview with RadarOnline, Ciccone raises a cynical (and a smidge judgmental) eyebrow over his big sister's string of sprightly paramours.
Madonna, now 52, is currently dating French dancer Brahim Zaibat, 24. And before him there was Brazilian male model Jesus Luz, who was also aged 24.
"I guess if she continues to date all these much younger guys, it could start to look creepy," said Ciccone.
"But I think that a lot of Madonna's emotional needs are met by taking care of her children," he continued. "These boyfriends must really be like a kind of distraction for her.
"She certainly isn't following societal values, but then again my sister never has and probably never will either," he said.
But it's not all barbs and acrimony. Ciccone praises his sister's parenting skills.
"Lola has turned-out really well, and I'm sure her mother is very proud of her," he said. "Hopefully in time I can have the same relationship with Madonna's children as I do with my other sister Melanie's kids."
Ciccone also saluted Madonna's career, while taking a subtle swipe at Lady Gaga.
"I can see a lot of my sister's influence in what Lady Gaga is doing today. It's like 'Madonna on speed' actually," he said, but added that she goes too far with her stage persona.
"I think Lady Gaga is a great writer, singer and performance artist, but sometimes she goes too far with her costumes and persona and it must be hard for her fans to identify with that.
"Madonna was a genius at changing her image into something that her fans could identify with and replicate if they wanted, and that's something I'm trying to teach my own acts as I try to mentor their music careers."
Ciccone has launched his own music management firm, The Ciccone Factory, and hopes to teach fresh talent how to emulate his sister's success.
He's also touting a reality TV series based on his pet project.
No word from Madonna's camp on Ciccone's comments.
Don't hold your breath.
Allergic to what?
As we already know, Anne Hathaway nabbed the coveted role of Catwoman in director Christopher Nolan's third Batman flick, The Dark Knight Rises.
Hathaway will play Selina Kyle, Batman's sometime lover (and foe), better known as her feline alter-ego, Catwoman, in the sequel.
Job done.
But there's a slight problem. Hathaway is reportedly allergic to cats.
The actress, a huge animal lover, has her own pack of canines, but reportedly can't be near felines - for fear of triggering an allergic reaction.
"Anne has always had a reaction to cats and is very much a dog person," said a source.
"She's devoted to her chocolate Labrador, Esmeralda, but wouldn't have a cat in the house. I guess it just shows her dedication as an actress that she's willing to put herself on the line as Catwoman!"
Pardon me while I fur-ball.
That was quick
Ted Williams - aka the homeless man with the "Golden Voice" - has hoofed it out of rehab after only two weeks of treatment.
TMZ reports that Williams, who checked in to the Origins Recovery Center in South Texas, has left the facility - against medical advice.
Shame. Just as he was heading in the right direction.
Blogger's Briefs
This lot just in...
* Tiffany outs 'NKOTB' member Jonathan Knight. Oops!
* Hollywood director Kevin Smith slams Bruce Willis
* TV Titan Oprah's big family secret is out of the bag
* There will never again be a Mrs. Clooney
* Chelsea Handler spotted kissing some bloke at Sundance
* Johnny Depp corrupts Penelope Cruz in Pirates of Caribbean: On Stranger Tides trailer. Lucky girl
* Jason Trawick back on as Britney's agent
* Macaulay Culkin denies dating porn star
* Bret Michaels to undergo heart surgery
* Alex Reid looks happy...
* Lindsay Lohan: 'Tom Hardy is just a friend'
* Kelly Osbourne replaces Taylor Momsen as face of Madonna's fashion line
Blogger Bites Back
* Read more celebrity news and gossip from Myrddin Gwynedd (MG) here