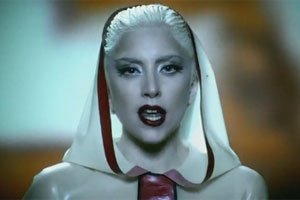 Mistress of spin Lady Gaga's full-length video for new single Alejandro has finally landed. And predictably, it's a tidal wave of self-indulgent, provocative imagery, served with a delicious dollop of carnal pleasure.
Directed by fashion photographer Steven Klein (Queen of Pop Madonna's long-time visual collaborator), the nearly nine-minute video is everything you'd expect from Gaga - with more Madonna-ism than you can shake a crucifix at.
Chiselled topless blokes, latex-clad nuns, simulated sex and Lady G cavorting clad in a rifle-toting bra while surrounded by writhing dancers in military garb. Yes, it's most definitely a Gaga promo.
Gaga recently explained that the video has a "homoerotic military theme".
She told US TV host Larry King: "It is a celebration of my love and appreciation for the gay community, my admiration of their bravery, their love for one another and their courage in their relationships."
Visually, it's quite stunning. But don't ask me what the hell's going on in the video, because I haven't the foggiest.
Feast your eyes on the almost mini-movie below. Be warned though, it's slightly NSFW (Not Safe For Work):
Love her or loathe her, there's no denying that she's a master when it comes to manipulating and marrying music and visuals.
Banned Brown
Oh dear, Chris Brown has been banned from entering the UK. The shamed R&B singer has been denied a visa, forcing him to postpone his Fan Appreciation Tour.
Bad boy Brown's visa request was dismissed on the grounds that he was convicted of a "serious criminal offence," according to Britain's Home Office.
Brown was sentenced to six months' community labour and put on five years' probation after assaulting Rihanna (who was his girlfriend at the time) last year.
He was expected to play three dates in Glasgow, London, and Manchester.
Brown later tweeted his disappointment: "SORRY to all the fans in Europe!!! my tour is cancelled. Im pretty sure yall know. my entry was denied in your country. I love you. SORRY!!"
Said tweet has now mysteriously vanished and been replaced by a vanilla line from his spokesperson: "Due to issues surrounding his work visa, (the) Ireland and United Kingdom leg of Chris Brown's Fan Appreciation Tour has been postponed. Chris looks forward to performing for his fans abroad in the near future and thanks them for their continued support."
So Britain has the hates for Brown. Shame. Still, you do the crime...
Perry nice!
The delicious Katy Perry has unleashed a tantalising 30-second teaser for her upcoming California Gurls video.
Blink and you'll miss it, but it should be enough to tide us over until the full-length video drops.
Loving the cupcake bikini and the bazookas squirting cream.
Perry said of the clip: "If you have the munchies and watch this video, it will be the greatest thing you will ever see in your entire life."
Watch out, here comes Einstein...
Plastic princess Heidi Montag has finally seen the light and filed for legal separation from her creepy hubby Spencer Pratt.
Rumours have been rife for weeks that the fame floozies had pulled the plug on their marriage, because Montag wanted "some space".
She told people.com, "I needed some alone time. There are so many lies out there about me and I just needed space - even away from my husband".
Well it looks like that space is about to be permanent.
Montag's just filed legal documents at a Santa Monica courthouse, citing "irreconcilable differences" as the reason for their split.
Best thing for her - both of them actually. Total toxic love shame.
LiLo busted?
Lindsay Lohan, you've got some serious explaining to do, girl.
The walking tabloid's court-ordered alcohol-monitoring SCRAM bracelet was triggered over the weekend - while the wild child mingled at an MTV Movie Awards after-show bash.
Word is the device generated a report - indicating a possible alcohol violation or that the gadget was tampered with.
She could face possible jail time if she's found to have violated the conditions of her bail - which included zero booze consumption and random drug testing.
We're hearing that the judge presiding over her case has just called an emergency meeting with LiLo, her lawyers and prosecutor to determine why the SCRAM device was triggered.
Meanwhile, she's tweeted a denial the device went off: "My scram wasn't set off - Its physically impossible considering I've nothing for it to go off - All of these false resports are absolutely wrong." [sic]
Sure, we believe you, LiLo.
Blogger's Briefs
This lot just in...
* She gives good face. Madonna's tweeny daughter Lourdes graces the cover of some obscure magazine. You can bet your Kabbalah water she never posed for the mag, but still, there's no denying she's a chip off the old block.
* New Gary Coleman will unearthed? Apparently so. One which was compiled in 1999 and names his friend and former manager as the executor. Stick that in your purse, Shannon Price. Meanwhile, it transpires that his ex-wifey plans to spread his ashes "around some train tracks". As you do.
* Smiley Miley Cyrus says she's gonna hurt Justin Bieber over prank calls.
* Listen up Gleeks! Little Britain star Matt Lucas has landed a role in the hit TV show, according to Britian's The Sun.
* It's a girl for Mariah Carey and Nick Cannon, but not as you know it...
* Has Britney Spears' conservatorship been extended? Yup, daddy still pays, according to the latest reports. The reason? She's away with the fairies, "in a different world ... might as well be on Mars ... and lost touch with reality," says a snitch.
* Robbie Williams is one step closer to getting back with the Take That boys. He's just announced that he'll release a new track he co-wrote with frenemy Gary Barlow.
* Fembot Katie Holmes says she was "wowed" by hubby Tom Cruise's performance at the MTV Movie Awards. Cruisey graced the stage as his Tropic Thunder character Les Grossman and treated the audience to a dance-off with Jennifer Lopez.
Admittedly, Cruise did rock the house with his crazy routine.
Cop an eyeful of it below (Cruise kicks in at the 1min 2sec mark):
Catch you guys and dolls later.
Blogger Bites Back
Rock the vote
You voted for us last year, and we blooming well won! Make this little Welshman proud and please vote for this blog again in the Net Guide Awards' Best Blog Site category. Voting closes 30 July.
* Read more celebrity news and gossip from Myrddin Gwynedd here.