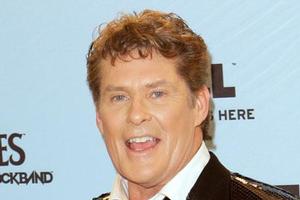 UPDATED: Beleaguered TV icon David Hasselhoff has been put under an involuntary psychiatric hold at a Los Angeles hospital after collapasing with a seizure, according to reports.
Earlier reports claimed the star, nicknamed The Hoff, 57, was hospitalised on Saturday after he was found passed out on the floor of his Los Angeles home. Radaronline.com said the actor - who has a long history of alcoholism - was taken to LA's Cedars-Sinai Medical Center after his daughter Hayley called emergency services.
The Hoff's neighbour told the website: "I asked one of the paramedics how David was doing and he told me his eyes were rolling back into his head, he was drooling and that he'd had a seizure.
"This isn't the first time this has happened to him."
A spokesman for the Los Angeles City Fire Department confirmed:
"Paramedics were called to the (address omitted) in Encino for medical aid. Paramedics arrived at approximately 11:51am and later transported the patient to a nearby hospital."
It has been widely speculated that The Hoff's hospital dash was catalysed by an alleged drinking session, leading to a bad reaction with anti-seizure medication he's reportedly taking.
Code 5150
The same website now reports the America's Got Talent judge's hospital stint isn't voluntary - claiming he's being held under the California Welfare and Institutions Code 5150 (otherwise known as a Britney - she was placed under the same order during her mother of all meltdowns in January 2008).
A Code 5150 "allows authorities to take into custody (for up to 72 hours) persons they believe may be a danger to themselves or others, are gravely disabled or suffer from a mental disorder," the website reports.
The Hoff was admitted to rehab in October amid gossip he'd accidentally walloped a doctor during a boozing session. And then there's his other collapse back in May, following which his daughter Hayley came to his rescue by calling for an ambulance.
No word as yet from his reps. But don't hold your breath. They've been earning their corn of late by vehemently denying his past five hospitalisations were linked to alcohol poisoning.
Best of luck battling the booze demons, mister.
And in related news...we've just heard that Hasselhoff's ex-wife, Pamela Bach, was arrested on a DUI charge on Sunday, reports TMZ.com

After being pulled over by a cop and breathalysed, she issued a statement saying: "I am remorseful and mortified. I am going through a really difficult time between David being in the hospital and dealing with the divorce."
Cobblers. That's no excuse.
UPDATE: The Hoff's rep is denying his client was put on an involuntary psych hold after his weekend hospital dash.

His rep issued a statement saying: "David is home now and he's fine. I'm not sure where that information is coming from."
Jake Gyllenhaal and Witherspoon 'split'

Is it raining or are the heavens weeping? Hollywood lovebirds Reese Witherspoon and Jake Gyllenhaal have pulled the proverbial plug on their romance, according to reports.
Word around the campfire (thanking you people.com) says they're heading straight for Splitsville after two-and-a-half years together.
The gorgeous pair hooked up after clapping eyes on each other on the set of the movie Rendition in 2007, a CIA thriller in which they played man and wife.
Curiously, People.com offers no explanation as to what caused the alleged split, but merely relies on the musings of a 'source close to the actress'
If you're thinking the split talk sounds a bit off-key, that'll be because only two weeks ago the couple was the target of marriage speculation, fuelled by gossip from a snitch that they'd be wed by the end of the year.
"Reese wanted to be ultra-cautious about getting married again not just because of her fears but for her kids. She never wants them to go through another divorce," the source told the National Enquirer.
"Reese told Jake about a month ago that's she's ready to get married and he's over the moon.
"He feels like he's been wanting to marry her forever and he can't wait until it happens. He'll be 29 on December 19 and told her that would be the present she could give him.
"They've only told a few close friends and relatives that plans are in the works for a small, secret wedding, hopefully before the New Year."
Well it looks like those plans are shot to stink. Or are they...
Update: Witherspoon's mouthpiece has just issued a statement trashing the split reports.
"It's not true. They have not split," the rep says.
So there you have it.
Blogger Bites Back
Pictured: David Hasselhoff. Photo / AP