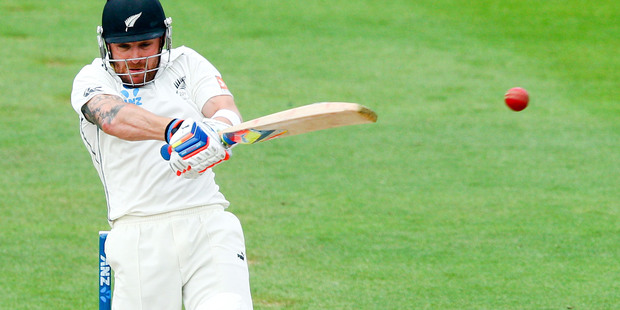 The nerves didn't hit Brendon McCullum until the crowd started to swell at the Basin Reserve this morning.
The skipper's 302 runs - the first triple century by a New Zealander - was the major factor in the Black Caps salvaging a draw with India in the second test, and winning the series 1-0.
McCullum enjoyed a relaxing evening yesterday after day four of the second test against India as he shared a beer with his father Stu, and despite being not out overnight on 281 as day five approached, the jitters hadn't set it.
But as he strode to the wicket today the sense of occasion hit him as he continued his marathon stand, on his way to becoming the first New Zealand player to make a triple century in a test.
"After every ball that I defended, left or got a single they started cheering and that made me a little bit more nervous to be honest,'' McCullum said.
"I sort of then probably understood the magnitude of what the task at hand was and how much, I guess, joy it gives fans of this cricket team to see guys succeed and to see records broken.''
Eventually, McCullum guided a ball behind point for four as he moved from 298 to 302 and surpassed Martin Crowe's New Zealand record of 299, which had stood since 1991, as the crowd leapt to their feet.
"The moment that 300 came up and the applause that was ongoing for quite a while, that really hit home to me, I guess, that it was such a significant achievement for a New Zealander and something that I'll certainly remember for the rest of my life,'' McCullum said.
The crowd were then back on their feet only two balls later as he was finally dismissed for 302 when he edged a ball to Indian wicketkeeper MS Dhoni from the bowling of Zaheer Khan.
Dhoni paid tribute to McCullum's vigil, which also had strong support from centurions BJ Watling and Jimmy Neesham, as New Zealand fought back from the brink as they posted 680-8 declared in their second innings to draw the test and win the two-match series 1-0.
"We have bowled for two-and-a-half days and we tried our best,'' Dhoni said. "We tried all the different fielding positions, we tried three new balls to get them out and after that, at times, you have to appreciate the opposition can also bat well.''
First series win in 11 years
The New Zealand cricket team's win today was its first series win over India since 2002-03 but the Black Caps could not triumph in the second test, which finished in a draw today.
The hosts attacked relentlessly in the final session with India chasing 435 to win, but it was not enough to whitewash the visitors in the two-test series.
Tim Southee, Trent Boult, Neil Wagner, Jimmy Neesham and Corey Anderson bowled with tenacity but could not eke out the 10-wickets required to take the series 2-0.
More importantly India were not let back into the game at any stage in the last two days - evidence of a clinical maturity to New Zealand's play this summer and an extraordinary comeback from a deficit of 246 runs on the first innings.
India batted out the session, finishing at 166 for three with Virat Kohli reaching 105 not out, his sixth test century. New Zealand appeared to be denied his wicket on 15 with the score at 31 for two.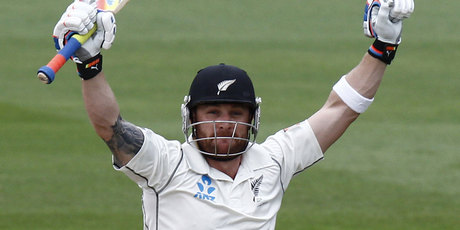 An appeal for caught behind from Boult saw the Snickometer say "yes" but umpire Steve Davis said "no". Kohli didn't err twice on a benign pitch which was a delight to bat on in the latter stages of the match.
The 1-0 result, which follows a 2-0 series win over the West Indies is the first time New Zealand has won two 'series' in a home summer since 1989-90 when they beat India and Australia (albeit a one-off test).
New Zealand took three wickets in the middle session of the final day which established an outside chance of a remarkable comeback win.
Boult and Southee struck once each in the first two overs after lunch which left India reeling at 10 for two.
Boult trapped Shikhar Dhawan lbw for two then Southee had Murali Vijay caught by third slip Corey Anderson for seven. Cheteshwar Pujara got a touch of glove down the legside to Southee for 17, further destabilising the visitors at 54 for three.
The excellent bowling followed New Zealand captain and triple century-maker Brendon McCullum declaring his side's second innings closed at 680 for eight, the country's highest test total, eclipsing 671 for four set in 1991 at the Basin Reserve against Sri Lanka.
Neesham finished with 137 not out, as the 10th New Zealander to score a century on debut and the second after Mark Greatbatch to do so in the second innings.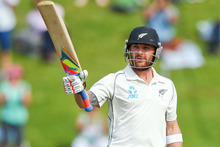 McCullum's decision left India 435 runs to win from 67 overs.
But for many New Zealand fans this test will be remembered for McCullum's marathon effort and will be the greatest cricketing accomplishment they have seen in their lifetimes. Spine-tingling gravitas engulfed proceedings with the crowd ooh-ing and aah-ing each seminal moment.
The feat compounded the inspiration offered by the New Zealand team this summer for a fanbase who long ago could have been forgiven for slipping into apathy.
David Leggat: McCullum 302 - Our greatest ever innings
McCullum takes over the country's highest test score from Martin Crowe who made 299 in 1991 against Sri Lanka.
Before the day's play McCullum warmed up in a jocular fashion and stretched extensively using one of the team's industrial rubber bands. He received an ovation before going out to bat. Queues of people waited to get into the ground to see history.
He had one dicey moment today, edging off Ishant Sharma in the 197th over, only for the ball to fall short of wicketkeeper Mahendra Singh Dhoni.
Sir Donald Bradman (twice in 1930 and 1934) and Wally Hammond (1933) are the only previous batsmen to score a triple century and double century in consecutive tests.
It's the second test triple century to be made in New Zealand. Hammond made 336 not out for England at Eden Park in 1933.
McCullum's 19 runs to 300
Brendon McCullum began the day on 281, then:
282: Single to wide mid off, Ishant Sharma.
283: Single to point, Zaheer Khan
283: Beaten by Zaheer Khan outside off stump
283: Cramped by Sharma, blocked delivery.
284: Single to cover, Sharma
288: Whipped four to mid wicket, Sharma
289: Hooked single to fine leg, Sharma
293: Vigourous pull to mid wicket fence, Zaheer
293: Beaten comprehensively by away swinger from Sharma, balls falls short of wicketkeeper MS Dhoni
297: Whipped four square leg, Sharma
298: Single to wide mid on, Sharma
302: Cuts four behind point, Zaheer
302: Out, caught behind of Zaheer, 302.
TrendsMap over New Zealand just now. #300forMcCullum #blackcaps #NZvInd pic.twitter.com/jvgpNbpros

— Russell Brown (@publicaddress) February 17, 2014