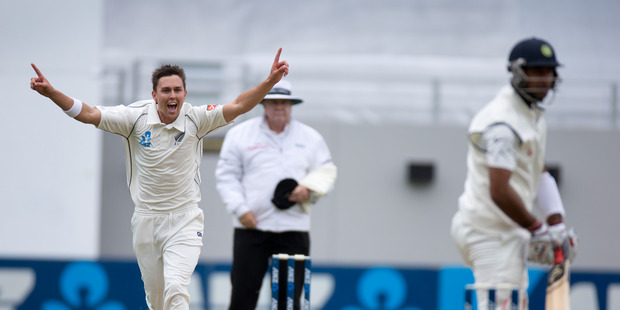 New Zealand 503
India 130-4
For a time this afternoon, if you narrowed the eyes it could have been the West Indies all over again.
There were Trent Boult and Tim Southee steaming in and laying waste to another top order batting group, except this time it was the far classier Indians at Eden Park.
Having piled on a Brendon McCullum-inspired 503, India were reduced to 10 for three, tails were up, spirits soaring.
When bad light trimmed 17 overs off the end of the second day, India had partially recovered to 130 for four, courtesy of quality shotmaking from Rohit Sharma and Ajinkya Rahane.
The third day will start 26 minutes earlier tomorrow and New Zealand have high hopes that with a slightly fresher pitch and another bout of demanding seam and swing bowling from the Northern Districts duo they can turn another screw or two on India.
Boult removed Shikhar Dhawan and the prolific Cheteshwar Pujara in his first over - the latter to a wretched shot - then Southee managed a snorting lifter which brushed Virat Kohli's glove en route to second slip, via his helmet.
Neil Wagner chimed in with a fine delivery to account for Murali Vijay, although Sharma took a shine to his bowling later.
"To get those early wickets was key and showed what good total we have on the board,'' captain McCullum said.
"We're pretty confident we've got the bowlers to take the wickets we need, providing we execute in areas we know we can.''
McCullum was one of two players who dominated the New Zealand innings today, on his way to 224, the other being tall, rangy Ishant Sharma, who was a handful, and was rewarded with six wickets.
How McCullum views his innings in time will correlate directly to the outcome.

"If we go on and win the test it'll probably be my best innings in terms of the pressure we were under and the opposition we're playing,'' he said.
Being able to share partnerships, firstly the 221 with fellow centurymaker Kane Williamson, then 133 for the fifth wicket with Corey Anderson, 36 for the seventh and 56 for the eighth pleased the skipper, who was chuffed by the fight his team showed to get out of a first session hole on Thursday.
He likes No 5 in the order, coming in when the ball has lost some of its shine and hardness, and acknowledged the need for a captain to be performing his core role.
"You've just got to keep faith from a personal point of view, that the hard work and desire is burning strong. I wouldn't say it's a weight off my shoulders. In 36 hours I'll be under pressure again.''
McCullum admitted during tough days last year he questioned his desire in the top job.
"It's a tough game and when you've been doing it a decent period you expect it to get easier, but it doesn't. The expectation increases and pressure continue to mount.
"At times like that you look back on when you started and how keen and desperate you were to perform. I hope there's a little bit of kick left,'' he said.
The pitch is starting to hold up a touch, and McCullum predicted close catchers in front of the wicket could become a more common sight in the next three days.
Rohit Sharma's test career began five matches ago with back-to-back centuries against the West Indies. He was subsequently found out in South Africa but he's an attractive strokemaker as is up and comer Rahane.
New Zealand must keep asking hard questions of the batsmen. A critical first session beckons tomorrow.
SCOREBOARD