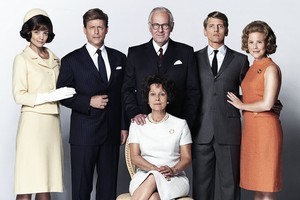 Watching Prime's sometimes excellent bio-series The Kennedys the other night (Tuesdays, 10pm) reminded me how much drug use there is on TV these days. Although The Kennedy's is of course set in the 1960s.
The series only has a few episodes to run but you can drop in easily enough. Greg Kinnear makes a great JFK while Katie Holmes gets by as Jackie O.
Luckily there's a doctor on hand to liven things up. "People call me Dr Feelgood," he helpfully tells us before injecting Mr Kennedy with his magical concoction.
JFK suffered from agonising back pain which the good doctor treated with something you won't find on the Family Health Diaries. Namely a mixture of methamphetamine, vitamins and human placenta.
Jackie, on the other hand, finds the mixture helps her fulfil the commitments of being the first lady while trying on lots of new dresses. More on Doctor Feelgood here.

But it's the non drug-using senior Kennedy who steals the show with bejesus scaring brilliance.
Tom Wilkinson's Joe Kennedy is chilling in his intensity, and his addiction to power, his misanthropy, is beautifully realised. If you missed it this time keep an eye out for the re-runs.
Elsewhere drugs rule. Dealers are busted and badmouthed on Druglords (Tuesdays 9.30pm, TV One). Underbelly Razor is a carnival of cocaine. There's weed for almost everyone on Weeds (Wednesdays, 9.30pm, Soho), which has been going wildly but still entertainingly off reservation of late.
V is rather popular and lovingly portrayed on True Blood (Thursdays, 8.30pm, Soho). It actually looks like a lot of fun which is alright because it's not real.
They're even flaunting the stuff in the news hour. I suspect that Hamish McKay of TV3 Sport fame is taking some form of laughing gas. There is, and I can't be alone here, a particular form of laugh-talking favoured by sports jocks. We should introduce after-show testing just to be sure.
But 3News isn't the only hotbed, Shortland Street and Outrageous Fortune are of course riddled with gear. Shameless even more so.
At least there's no drugs on Coronation Street (Thursdays, Fridays, 7.30pm, TV One). Actually - remember Joe McIntyre's addiction to painkillers, which began his downward spiral that ended at the bottom of a lake?
Or Leanne Battersby's flirtation with cocaine followed by her 'going on the game'. Then there's the real life shenanigans of former Red Dwarf, now Coro star Craig Charles.
For abuse of prescription meds we have Hugh Laurie on House and Eddie Falco on Nurse Jackie. These are functional addicts. Like Sherlock Holmes (cocaine, morphine, opium) they can still solve crimes/health emergencies while completely wankered.
Mostly though there are consequences. Like a cough in a period movie, drug taking on a TV show is often the precursor of something dire.
Watching The Kennedy's it occurs to me that if it wasn't for Lee Harvey Oswald, perhaps JFK would have ended up like the most recent victim of a Dr Feelgood, Michael Jackson. Either that or he would have ended up on Celebrity Rehab.
SPOILER ALERT: Don't watch this clip if you're new to The Sopranos (Mondays, 9.30pm, Soho). It has yet to screen on the current rerun on Soho but it's a great illustration of the downside of addiction.
- Herald online