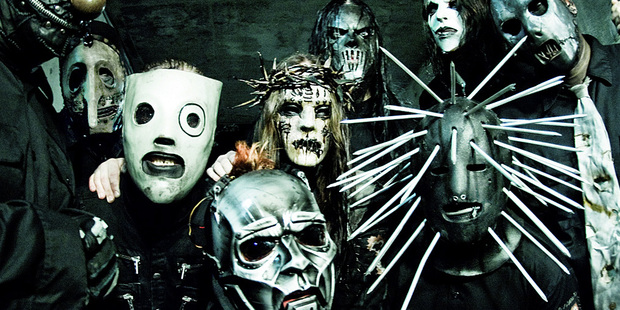 The founder of the Big Day Out has accused Slipknot of giving him Sars during a flight out of New Zealand.
Ken West told Rolling Stone the heavy metal band were brewing a severe respiratory illness in the masks they were wearing onstage during the 2005 Big Day Out shows.
He contracted the disease, which he said was Sars, while sitting next to them on a flight after the New Zealand leg of the tour.
"Slipknot gave me Sars...
"They'd picked up some weird f***ing Asian flu strain that the doctor said was gestating in a petri dish form in their masks, and I sat next to them on the flight from New Zealand and came down with it the next day," West told the magazine.
"I had to take Sars pills, which meant I couldn't go outside for two days cos I had no UV protection, they were such strong antibiotics."
Sars, which stands for severe acute respiratory syndrome, is a form of pneumonia which can lead to serious breathing difficulties and sometimes death.
It was proclaimed a possible global epidemic in 2003 after an American businessman traveling from China came down with the disease and later died.
West said photographer Tony Mott also contracted a severe illness on the flight with and nearly died in Prince Alfred hospital.
It capped a disastrous year for the Big Day Out, West said.
"That was when the System of a Down security manager roughed up Bernard [Fanning of Powderfinger] as he was trying to get onstage cos he didn't know who he was.
"Beastie Boys hid in their sheds; they didn't want to come out cos they were all sensitive vegans and they had their own chef in there."
The incidents spurred him to make chemistry between performers a priority on future tours.
"If we don't have a good vibe backstage, what the f*** are we doing it for?"
West cancelled the New Zealand leg of the Big Day Out last year, citing poor ticket sales and years of losses.
In an interview with fasterlouder.com.au, West said the Big Day Out - which was hosted in Auckland for 18 years - was too expensive to take to New Zealand and it "should never have happened".
However, the Australia-only 2012 Big Day Out failed to excite punters, with poor ticket sales forcing West to post watered down line-ups in shows away from Sydney.
He told Rolling Stone the 2013 Big Day Out tour was his chance to salvage the festival's relationship with its audience.
"At the end of the day if we get through this and we feel happy that everybody's on side, then it's a really important step. And if we f*** it up, we're in trouble."
- Herald Online