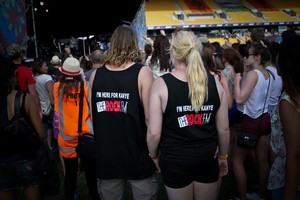 The Auckland Big Day Out, which has died aged 18 after suffering from a short illness, was many things during its short lifespan: pyrotechnic rock festival; subaltern sanctuary; alleged corrupter of youth and virtue; avant-garde forum; and finally, an antiquarian revivalist. If some great leaders can be called renaissance men, this was truly a renaissance faire. Apart from the all the stupid jester-costume nerd shit. Most of the time.
Born to Ken West and Vivian Lees' Australian Big Day Out, the Auckland BDO triumphed in spite of, or perhaps because of, its young parentage. Industry veterans recall a young and hungry debutante which struck paydirt with Soundgarden and the Smashing Pumpkins at the height of grunge, and flouted the codes of the day by booking and backing the likes of Marilyn Manson and the Prodigy in spite of moral outrage. The claims that Auckland, let alone New Zealand, couldn't sustain its ambitious girth died quickly - to the point that when it took its infamous lost weekend in 1998, it only served to heighten its fame and mystique.
It returned to its biggest acts and biggest crowds - a democratic ideal where the dance fiends, the bogans, and the sullen goths could exist in harmony.
But in its autumn years, onlookers grew uneasy as its behavior became more erratic. Endearing quirks - the occasionally dire sound, its endless timetable clashes, Powderfinger - became pathological. It recoiled from criticism, turning away its would-be biographers at the first sign of dissent. It second-guessed itself in the way that even seemed alien to its closes friends and allies - cancelling rappers at the first sign of moral panic, dropping its own headliners in a strange and self-defeating move that only served to shore up its most extremist base. Indeed, at its deathbed, those loyal supporters turned out in first, garbed in "I'm Here to See Kanye: Yeah Right" Tui parodies, and "Hitler Was a Sensitive Man" singlets. Ultimately, Das Racist will have disappointed these punters.
At the death, there was a sense of revelry. True, the Big Day Out's appearance shocked on first sight - its mighty Boiler Room a mere cheap'n'dirty stage, a tiny crowd for David Dallas. But the smaller turnout, the unusual verdant greenness of both Mt Smart fields, made this a pleasant wake in the park, a reminder of much younger and more innocent days.
The best eulogies came from Battles, who recalled the BDO's propensity for forward-thinking, ambitious musical acts; My Chemical Romance, who reminded attendees that it excelled best when it balanced an ultra-slick stage show with a tongue firmly in its cheek; and Röyksopp, who channeled previous guests The Flaming Lips and reminded one of the best crowds of the night that, most of all, the BDO could be gloriously, batshit insane. Sadly, the likes of Kasabian chose an inopportune time to remind the mourners of the deceased's frailties - bewilderingly shitty and lazy band selections, predictable moves, horrible sonics, while Soundgarden reminded us of its late-in-life tendency to look back, not forward. Happily, it wasn't enough to detract from the celebration of a life.
Ironically, the Big Day Out is survived by the very progeny that killed it - St Jerome's Laneway Festival, Rhythm and Vines, Splore, Camp A Low Hum, and others. Its trailblazing success meant many others could follow its path and specialise - by genre, by experience. Its legacy of being all things to all people having become a flaw and not its greatest asset, it chose to leave this realm at, and possibly "@" peace.
Imperfect sound forever.