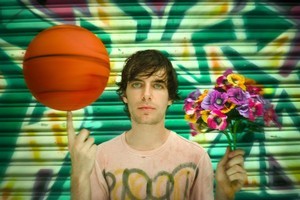 The skill of mashing up hundreds of samples into a DJ set demands a certain standard of geekiness.
For American producer Girl Talk, self-named to puzzle the dance music world's borderline academics, playing the nerd is all part of the fun.
The bedroom boffin - also known as Gregg Gillis - has spent the past decade pioneering the art of digital sampling, matching raps and acapellas with everything from old school classics to pop smashes.
His ear for cheeky tune combinations and breathless beat switches have earned a global fan base, and now a fifth tour with the Big Day Out.
Yet despite a reputation as an unpredictable and eclectic party starter, Gillis is more concerned with his art versus science approach to making music.
Any kid and his laptop can fuse two songs together, he says, and now the challenge rests in flipping the familiar into something new.
"I rarely think about what works on a dance floor because what I do is more about what's musically interesting and fun, it's about the combinations being transformative," Gillis says.
"When I started cutting up tracks I never expected people to dance because it doesn't fit the traditional form - there are no build-ups or repetition which are usually associated with dance music.
"So in that way I'm very happy that people can dance along because mine is a very unconventional party soundtrack."
Girl Talk shows trade in the unexpected, with Gillis' fans often left open-mouthed and rooted to the spot by the flashes of imagination that is conjured up.
You're likely to hear rapper Missy Elliott riding over a disco riff or Ol' Dirty Bastard pegged to an instrumental of Radiohead's Creep.
Gillis' latest eureka moment was laying down the Busta Rhymes verse on Chris Brown's Look At Me Now in tandem with Queen's Bohemian Rhapsody.
"I've been playing it typically towards the end of shows," he says. "Bohemian Rhapsody has so many parts and I'm fascinated with the idea of finding various connections in the same song."
Usually it takes weeks, if not months, for the Pittsburgh producer to strike upon the perfect mash-up.
His refusal to play any sample longer than around 20 seconds drives the never-ending thirst for fresh content.
"It's always a really long drawn-out trial and error process," Gillis explains.
"Whether I'm on the road or at home I'm always cutting up little samples and trying things out because a lot doesn't work."
The issue of copyright has loomed heavily with some music industry bastions accusing mash-up producers of cashing on the intellectual property of other artists.
While the growth of remix culture and acapella have quietened the conversation, the Fair Use law has protected producers from sampling if certain criteria are met.
Gillis just needs to keep his music away from competing with the material he plunders. With such a rapid turnover of tracks it's unlikely to ever prove a problem.
"Thus far I haven't had any issues but the copyright thing is something that never really goes away," Gillis says.
"If someone comes after me then I'll fight back and go to court - but I would rather be touring and making music."
LOWDOWN
What: Perfectly cut up, mixed and mashed dance pop
Where and when: Boiler Room, 6.30pm
Listen to: All Day (2010)
-TimeOut / AAP