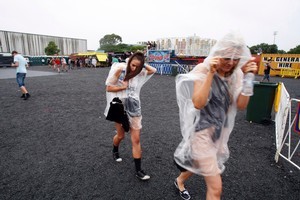 The rain has started falling at the Big Day Out - not dampening spirits but creating a more subdued event than previous years.
Close to 40,000 revellers descended on Mt Smart Stadium today to see the likes of Iggy and the Stooges, Tool and Deftones.
Event spokesman Paul McKessar said people were having a good time despite the rain and all events were going ahead as scheduled.
Iggy and the Stooges fan James Grace, from Taranaki, said the rain had actually been a blessing as it had thinned the crowd and allowed him to get closer to the stage.
"I'm not usually so good at getting to the front of a mosh pit, but this year I was right up there.
"It's Iggy, I was right there man."
Mr McKessar said four people had been arrested and five transported to hospital, all as a result of medical conditions, not injuries.
St John ambulance event operation manager Charlotte Gascott said the rain created new concerns.
"Everyone was really hot during the day because it was so warm but now that it has started raining people will be getting wet and cold so we'll be looking out for hypothermia."
Ambulance staff had treated 618 people by 6pm, mainly for headaches and minor cuts and bruises, she said.
- NZPA