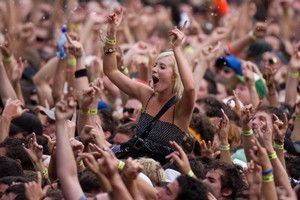 The Big Day Out is well stocked with plasters and paracetamol as St John staff prepare for the 40,000 revellers expected at today's festival.
Held at Auckland's Mt Smart, the event is one of the biggest of the summer for medical teams, who spend the day treating mostly mundane complaints such as blisters and headaches.
"We've stocked up with a couple of thousand plasters and a couple of thousand Panadol. And heaps of tampons ...
"Last year about 60 per cent of the complaints were really minor, so we're really prepared for those," St John regional events manager Charlotte Guscott said.
The army of 190 St John medical staff will also be on alert for the latest party drug 2C-P, which was described by the Herald on Wednesday.
The hallucinogen has been described as a mix between LSD and Ecstasy and as little as 1 to 2mg can be the difference between the desired effect and an overdose.
However, Miss Guscott says drug overdoses are rare at the festival. Headaches and blisters are the most common ailment.
Last year St John staff treated 382 people for blisters, so Miss Guscott advises that flat comfortable shoes should be the footwear of choice.
"Obviously with people here for the 11-hour concert, your feet get a little sore and people wearing Jandals get a bit of rubbing ... Bring a pair of shoes along that you're comfy in. Leave the high heels at home."
MetService duty forecaster Larissa Marintchenko says it will be a cloudy day with a high of 24C which will favour revellers. However it might get rather sticky, as humidity is expected to reach 90 per cent in the evening.
"There's also the possibility of scattered rain but it should be quite good. It'll be 24 degrees with southeasterly winds, so it should not be too bad for the festival."
However, even if it is cloudy Miss Guscott says it is important to still be sun smart.
"It's still so important to keep putting on sunblock and keep drinking water. Just because it's cloudy, it doesn't mean you won't be getting dehydrated and getting sunburned.
"It's a long day and people do get tired and worn out, so keep your fluids up and whack on sunblock and a hat and you'll be good to go."
Headline acts at the festival are American hard rock group Tool, German rock band Rammstein and veteran rocker Iggy Pop.
Other acts include Australian singer Sia , electronic artist M.I.A. and dance group LCD Soundsystem.
TOP TIPS
* Leave your high heels and Jandals at home and wear comfortable flat shoes.
* Wear sunblock and keep applying it throughout the day.
* Stay hydrated.
* Get out of the moshpit if you feel you are in danger of being injured.
* Bring something warm to wear.