Who: The Jim Jones Revue
When and where: Big Day Out, Green Stage, tomorrow, 1.10pm to 1.55pm
Essential albums: The Jim Jones Revue (2008), Burning Your House Down (2010)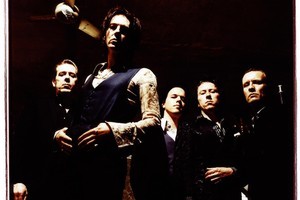 Too many bands are too darned serious, declares Jim Jones, who fronts the London garage rock band that bears his name, the Jim Jones Revue.
With a sound which brackets 1950s' rock 'n' roll's wilder edges with the garage/punk rock of the 60s and 70s, Jones sounds like a man on a mission. Having served time in psychedelic London outfit Thee Hypnotics as well as the short-lived Black Moses, Jones thought it was about time to put his name above the door and embrace his love for the revolutionary music of the 1950s.
With fleet-fingered pianist Elliot Mortimer on board, the Jim Jones Revue quickly started pulling huge indie audiences to their raucous old-fashioned parties, and have been gigging almost without pause since the release of their debut album in 2008.
A motor-mouthed - and ecstatic - Jones says they seem to have tapped into the market for energetic shows.
"I've been looking around at what's going on elsewhere, and there ain't much charisma in the way that I would like to see it. I felt someone should be doing that, so why not me?"
The first time the Revue played together, he felt something that grasped the heart and soul of everyone in the room, just like it did in the 1950s when rock 'n' roll shook people from the doldrums and had them burning holes in dancefloors.
"Yeah it's got some aggression but it's got a real swing to it and that's the real recipe of rock 'n' roll, when black music and white music came together - it has a punk rock drive with a fantastic swing to it as well," he says.
Inspiration for the Jim Jones Revue stems back to when Jones inherited his first record player and at the age of 7, as well as 78rpm records by Jerry Lee Lewis, Little Richard and Elvis.
"You know when you're a kid and you put on a track and leave the arm up and let it go again and again and again all day until you drive your folks completely insane with it? That was the process of it going in and shaking the cells of my music-listening soul you know," he says.
"Because they were my records and that was my player, I cherished that music more than I would have otherwise. It programmed my DNA musically and set the bar for everything that would follow. It became my yardstick for everything that I listened to from then on."
He insists there is nothing cute nor rockabilly about his new band. It's not a nostalgia movement or fashion statement.
"We're not singing about pink cadillacs or pretending we're all at the diner or the drive-in movies, that's not what it's about."
No, it's about rock 'n' roll at its most naked. Thick rock and swing.
"Putting them together is the original recipe, the way God intended it."