Who: The Greenhornes
Where and when: Big Day Out, Essential Stage, tomorrow, 12.30pm-1.10pm
Latest album: ****, out now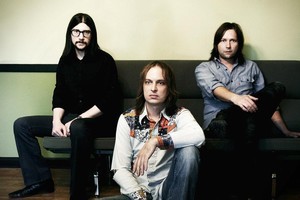 Since the Greenhornes played the Big Day Out in 2006 - providing one of the day's best sets and earning TimeOut's unofficial "favourite new band" award - Jack Lawrence has recorded two albums each with the Raconteurs and the Dead Weather and toured the world with both.
He also found time to marry photographer girlfriend Jo McCaughey in a double wedding ceremony with Meg White of the White Stripes and her man in May, 2009.
"Tours sure feel longer than they used to be and I kinda wanna head home," he laughs of being a married man on the phone from Nashville, ahead of the band's second Big Day Out appearance tomorrow.
Meanwhile, the other members of the Greenhornes - singer/guitarist Craig Fox and John Bonham-like drummer Patrick Keeler - also did their own thing with Keeler a Raconteur and Fox in a number of bands from his hometown of Cincinnati.
But it's the Greenhornes - the band the friends started way back in 1996 when Lawrence was 19 - where they feel most at home.
"It's made me a lot of who I am," says Lawrence, "and it's a place where we started and where we fell in love with music. It's our history, I think. But fortunately we can go out and play with other people and the Greenhornes will always be there.
"I'm not saying these other [bands] are not family, but going back to the Greenhornes is like returning to your first home. There's a lot of my life that has been in this band and Patrick and Craig are like brothers to me."
And Lawrence also points to the importance of what he calls "song history" between the three of them, be it the rowdy 60s' garage rock of Can't Stand It, the squally melodic groove of Pattern Skies, or the covers they play.
For example, Lawrence says they will always play Lost Woman by the Yardbirds, a band they were influenced by when they were growing up.
"That one will always stick around. It just keeps getting a little longer," laughs Lawrence.
It was a reunion of sorts last year when the Greenhornes got back together after a four year lay-off to record a new album and play live.
"It was like, 'Should we play? Can we remember the old songs?' The paranoia goes to your head a bit. But it was just like riding a bike. It all came back. So much so that it kind of surprised us."
The temporary hiatus came about because the band had toured almost constantly since the late-90s.
"It was more like, 'Okay, let's take a breath from this'. And I was happy to do these other projects and we were all working on other things so it worked out."
And this month their new album, entitled **** (aka Four Stars) was released marking the band's first new material in eight years.
In typical Greenhornes' fashion it moves from stompers like Need Your Love, to the steely, fuzz blues of Underestimator, and the spooky and unhinged Cave Drawings, which starts off beautifully and then goes berserk.
"Yeah, we get a little psychedelic on that one I think. And it's got that kind of tribal mystic thing going on."
Which, if their last Big Day Out performance is anything to go by, is what you can expect from their early afternoon set tomorrow - as well as some good-time beefy thrash and bash rock 'n' roll, of course.