In the lead-up to their appearance at the Big Day Out, Billie Rogers and Emily Littler share their style preferences with Viva.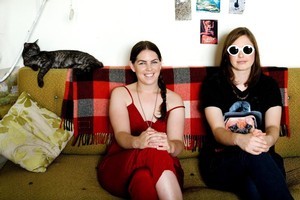 Billie Rogers and Emily Littler make up two-thirds of local band Street Chant, performing at the Big Day Out this Friday.
The pair met through the K Rd scene, combining their talents in 2007 to form what was then called Mean Street. That same year they performed at the Hailwood show at New Zealand Fashion Week.
The band won the inaugural Critic's Choice prize as part of the New Zealand Music Awards last year, and have seen a few gigs in their time.
Their best music festival survival tips? Littler suggests dressing sensibly and drinking a lot of water - "also, be chilled out in the mosh" - while Rogers is a tad more frank, but spot on: "You don't need to bring a bikini".
They tell us more about their style.
Who are your favourite designers?
Billie: Miss Crabb because it's beautiful and easy to wear. Hailwood because of the sweet T-shirts and jumpers.
Emily: Victoria Storey and Ra Brown because they are my friends. I like AS Colour, too.
When I'm on stage, I like to wear ...
Billie: A cool dress, bare feet.
Emily: Jeans, so I can jump around without people seeing my undies, and a long T-shirt.
What was the last item of clothing you bought?
Billie: A velvet dress from Miss Crabb to wear to a fancy party.
Emily: Homebrew T-shirt.
What item of clothing do you want to buy next?
Billie: A party dress.
Emily: I need to cut some jeans into jean shorts for summer as my sister just stole my old ones and cut them way too short.
Your favourite shop?
Billie: My dad's shop, Real Time, on Ponsonby Rd because you never know what you'll find in there and it's a good place to hang out.
Emily: Billie's dad's shop because he lets us play outside it.
Whose wardrobe would you most like to raid?
Billie: Mum's, because I'm not allowed to.
Emily: Kimmy Elizabeth Swanson.
Favourite fashion-y movie, or fashion moment in film?
Billie: The Runaways.
Emily: Elaine Benes in her Cinco de Mayo clothes on Seinfeld.
Dress to impress whom?
Billie: Me.
Emily: My enemies.
How would you describe your style?
Billie: Random.
Emily: Uncircumspect.
Who is your ultimate fashion plate?
Billie: Gram Parsons because he wore the sweetest custom Nudie suit ever.
Emily: Morag Dempsey and Roberta Stewart - two K Rd fashion icons forever.
Describe the best outfit you've ever worn.
Billie: My Batman cossie when I was a kid.
Emily: At the Critics' Choice Awards last year, I wore a T-shirt that I made that said "Giz Funding" - and then we got NZ On Air funding shortly after. Coincidence?
What is your favourite decade, style-wise?
Billie: Probably the 1970s because people were doing what they wanted to.
Emily: Seventies, because Zeppelin rules.