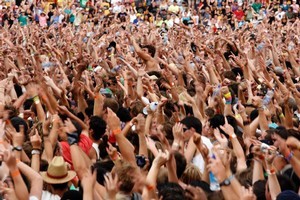 St John staff at this week's Big Day Out will be on alert for a new party drug that has emerged at other concerts around Auckland this summer.
The drug, 2C-P, has already made its presence felt at other events and ambulance staff have been been told to look for its symptoms - which include hallucinations - in Big Day Out revellers.
The Big Day Out on Friday is expected to attract 40,000 people to Auckland's Mt Smart Stadium, but is also one of the biggest events of the summer for St John.
St John regional events manager Charlotte Guscott said drug-related conditions usually didn't feature highly on the casualty list at the Big Day Out, but staff wanted to be ready after the arrival of 2C-P on the summer concert scene.
"I'm trying to get a grip with what it is and get some more information so that we're prepared on Friday for it," Miss Guscott said.
She told the Herald St John had encountered the drug over the past few months at other concerts around Auckland.
"It hasn't caused us a huge amount of problems but it's always good to be prepared and to know what to look for."
Symptoms were similar to those from other illegal substances such as headaches, hallucination and overheating.
"All we can do is know what they are and what they do. We're not there to judge what people choose to get involved with. We're there to do our job and help them," she said.
St John has been stocking up on medical supplies for Big Day Out with the most used items expected to be vomit bags, paracetamol tablets, band aids, bandages, and cold packs of ice.
The organisation will have an army of 190 doctors, nurses, paramedics and volunteers at this year's event.
A field hospital, two portable medical units and a number of first aid posts to help keep people safe will be set up around the stadium.
There will be medically equipped golf carts and Segways as well as pedal-medic bikes to assist with moving among the crowd.
Nearly 1500 people were treated by St John at last year's concert and 15 hospitalised in moderate to serious conditions. They were mainly for overdoses, chest pains, neck injuries and fractures.
Most of the workload was more mundane complaints such as headaches and blisters which accounted for about 60 per cent of the workload.
"We get a lot of blister patients because of girls wearing brand new shoes to the event. Also the event starts in the hot part of the day and ends in the cold of night. Many people dress to impress but what they wear can be wrong for the conditions."
WHAT IS 2C-P?
* A hallucinogenic drug with similar effects to LSD.
* Has a slow onset, but trips can last for several hours.
* 2C-P has been described as a mix between LSD and Ecstasy.
* As little as 1 to 2mg can be the difference between the desired effect and an overdose.
* Symptoms include hallucinating, headache, overheating.