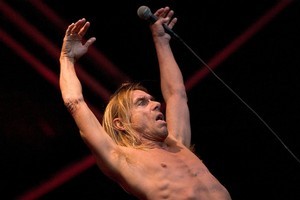 Listening to music will increase your IQ so kick off your pre-Big Day Out playlist with afternoon act Andrew WK's Totally Stupid, or entice randoms off the street with Party Hard with its thumping piano and bombastic guitars.
It'll either have you fleeing to Mt Smart early on Friday or smashing up the barbecue in a fit of excitement as you polish off your MA on the molecular structure of a good mix-tape.
The best way to start the day is a barbie breakfast. Backpacks and shoe choices can be discussed as bacon's digested, over the sounds of that day's highlights, like Andrew WK.
The lanky-haired dude known for his 2001 blood-nose album cover hasn't altered his schtick, although he did spend a few years moonlighting as a self-help expert, and giving motivational talks at Yale and New York University, so play him to perk up the sad sacks lamenting the lack of My Chemical Romance on the bill this year.
Another who's barely aged is Iggy Pop, whose last appearance at the Big Day Out five years ago was as incendiary as you'd imagine he would've been in his Free and Freaky days.
So scull back a spirulina to the Godfather of Punk's Raw Power, and when the omelette's done chuck on Cosmic Egg by Wolfmother, which is more likely to rattle your insides than line them, being heavy and rhythmic enough to get you excited about heading near the mosh pit.
Then put on Your Touch by the Black Keys, a bluesy number during which the rock-bluegrass-hip hop duo will unite fans of all persuasions, and make them think they've actually got a chance to choose a track. Which they don't.
There's only one thing more satisfying than seeing a band live and that's immortalising them in a personalised playlist. A good mix-tape was once something to be proud of, the eliciting of control over something that, on the day, could be dampened by bottlenecked crowds, or a cyclone.
Perhaps not as proud as LCD Soundsystem, who actually make music. But DJs make careers out of spontaneous playlists and so can you, charging All Your Friends $5 for parking and another $10 for breakfast and background music before the big day.
With an iPod rather than a turntable with which to literally mix a into b, it's easy to waste hours repeating the ends and beginnings of adjacent tracks to see how well they mesh. And that's a more entertaining prospect than planning your BDO itinerary on the new iPhone App (what's wrong with the paper timetable?) or gearing up for "arse painting" at the Lilypad, an event at 2.45pm.
From the Keys, segue into Lupe Fiasco's Kick, Push, an apt soundtrack if you're anticipating going nowhere from the Blue Stage to Green. Plus, both Fiasco and the Black Keys have featured on the Entourage soundtrack, and you might want to look like Vince and co when you walk through the pearly gates to the stadium.
Incidentally, this show guest-starred Anna Faris, who recently complained on American TV about the crude nature of Kiwi men. She'd better get used to hearing obscenities if she's planning on checking out Tommy Ill, author of the song Luncheon Fellatio, on the Local Produce stage.
She could also do with listening to Grinderman's No Pussy Blues to realise she was lucky Yogi Bear was filmed in New Zealand and not Australia.
Then again, she might like The Naked and Famous - everyone will be hanging out for their Silver Scroll-winning hit Young Blood so put on All of This to mess with them.
Aussie singer Sia should also put on a good show so be sure to include one of the former Zero Seven frontwoman's songs, possibly You've Changed, which, by the time she takes the stage at 8pm, isn't a bad idea because you'll stink after all that jumping around to Shihad's Sport and Religion. Hopefully she won't get mixed up backstage and end up fighting for her right to use MIA's dressing room - you don't mess with a Tamil Tiger's daughter as It Takes A Muscle to fend her off.
Make the peace with Primal Scream's Come Together from their Screamadelica album, turn off the barbie before you put on Rammstein's Ich Will (or ich will explode) and wind up the party with Sober by Tool.
Late yesterday The Black Keys withdrew from the Big Day Out lineup citing exhaustion. New Zealand band Kora will replace them.