Big Day Out songbirds Bic Runga and Kody Nielson share their style secrets and their preference for keeping things simple.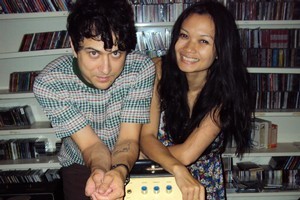 Think of them as an unlikely but dreamy pair: beloved "pop princess" Bic Runga and Mint Chicks singer Kody Nielson, who are collaborating on a side-project simply titled Kody & Bic. The collaboration came to fruition while the pair were working on songs for Bic's upcoming solo LP. They will make their "official" live debut at the Big Day Out next month, alongside such stylish luminaries as Grinderman's Nick Cave, M.I.A., Iggy Pop and more.
Runga and Nielson talk us through their low-maintenance style.
* Big Day Out Auckland, Friday January 21, 2011, tickets $150 + booking fee from bigdayout.com/tickets
Who are your favourite local designers?
Bic: Karen Walker and Kate Sylvester because they're always sharp and cheerful.
Kody: Probably Amber Rixon, she designed a lot of the Mint Chicks' clothes and costumes.
Does what you wear on-stage differ much to what you wear off it?
Bic: I like one-piece dresses you can just walk into and get on stage. I might do the same during the day but without makeup.
Kody: It's not always different but stage wear tends to be more exaggerated.
What will you be wearing at the BDO?
Kody: Birthday suits.
What has been your most memorable festival moment?
Bic: My Big Day Out highlights were the Beastie Boys and Peaches.
Kody: Iggy Pop.
What was the last item of clothing you bought?
Bic: A pair of Havaianas.
Kody: A pair of black trousers.
What item of clothing or accessory do you want to buy next?
Bic: We're trying to buy a practice space, so we might have to "go shopping in our wardrobes" as Gwyneth Paltrow puts it. Her wardrobe is probably like an awesome shop though.
Kody: Probably some shorts.
Your favourite shop, locally?
Bic: Wunderkammer and World Beauty are both fun to visit. Stephen Marr for Sans hair and body potions. Dermalogica in Albany for skincare.
Kody: Whangaparaoa Hospice. It's huge and it doesn't sell only clothes - it's where I found my mic stand.
Your favourite shop in another country?
Bic: Opening Ceremony in LA.
Kody: Red Light Exchange in Portland.
Who is the most stylish person you know?
Bic: Kody.
Kody: Bic's mum.
What's your fragrance or cologne?
Bic: Stephen Jones Millinery.
Kody: Acqua di Parma colonia intensa.
Most cherished item?
Bic: A Zoe and Morgan ring - a snake with an amethyst in its mouth and diamonds for eyes. It has super powers.
Kody: My sunglasses.
Most stylish city?
Bic: Paris, I guess, but friends who visit Auckland from overseas think it's reasonably stylish here.
How would you describe your style?
Kody: I wouldn't.
Bic: I'd say low-maintenance. I'm not big on ironing.
Who is your ultimate fashion plate?
Bic: Jane Birkin.
Kody: Miles Davis.
Your favourite stylish place?
Bic: Mt Hobson for the view of Rangitoto, Kura for Japanese, we found a cheap dumpling place at 7/30 Upper Queen St called Top Cafe. Plus Mexican Specialities.
Kody: Kang Nam Station.
Currently on repeat on your iPod?
Bic: Serge Gainsbourg's Histoire de Melody Nelson.
Kody: I don't have an iPod - hopefully I'll be getting one for Christmas.