Are you going to the Big Day Out? Click here to send us your Big Day Out 2010 photos to be featured online.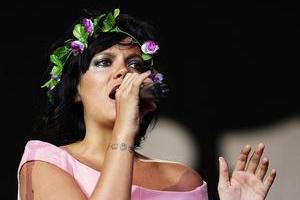 19:10pm: Dizzee Rascal has brought the crowd to a standstill, serving up a mix of new and old tracks that has the fans in a frenzy.
Trying to muscle into the moshpit after the set started was nigh on impossible, with most of the stairwells grinding to a standstill.
The London rapper had the throng in the palm of his hand, with the usual "let me hear you say yeah" shenanigans creating a roar that bordered on deafening.
Dividing the crowd in the age-old "this side is louder, no that side is louder" game, the yellow-clad wordsmith provided the perfect intro to his hit Fix Up, Look Sharp, which he made the crowd kick off with a resounding "Ooooooooi".
That track was followed up with the single which gained him international recognition, Jus' a Rascal.
The London rapper, who shot to fame with debut album Boy In Da Corner in 2003, has cemented his place as an entertainer who can bring the goods to Big Day Out again and again.
5:52pm: Clouds have descended over the Big Day Out, relieving the heat for the parched mob that has now filled the venue.
Full cloud cover and a slight breeze has made the heat a bit more bearable for the concert-goers, but that has not stopped them packing out the designated drinking areas.
Just as the lines for drinking-area entry bands have dissipated, the lines for beers have grown much longer.
Those needing a tipple are now ferried through a livestock-style race, grabbing booze on their way and paying for it at the multitude of counters available.
"It's not so bad," says David Kraitzick, a 22-year-old from Auckland.
'Even though it's cooled down a bit I'm pretty thirsty!" he says.
He is here to see Lily Allen and Muse, along with all the other acts.
The two bigger acts are to play the Blue Stage at 7pm and 9.10pm respectively.
Powderfinger has just finished their set and American five-piece The Decemberists have just started on the Green Stage.
Dizzee Rascal is about to start, the grimy Londonite returning to the Big Day Out to shoot his staccato rhymes at the willing hip-hop heads.
5:10pm: The Boiler Room lives up to its name again as Girl Talk takes the stage.
One of the most underrated acts to play any stage, the man also known as Greg Michael Gillis got the sweat pouring doing what he does best - serving up the freshest mashups of all sorts of genres.
The American beat specialist, mashing together unthinkable combinations such as Dizzee Rascal over Miley Cyrus, was a definite crowd pleaser.
One of the most interesting things about the show was being on the outside, watching fans slipping out through cracks in the Boiler Room tent.
These wide-eyed ravers, drenched in sweat (no doubt a mixture of their own and others') resembled newborns as they struggled to get to grips with the harsh brightness of the world outside the boiler room.
Next up in the big tent is another anticipated act, Peaches.
4:20pm: It seems the 45,000 people who have bought tickets have arrived - Mt Smart seems to be already packed to capacity.
The venue's notorious bottlenecks have become seas of flesh and colour and going against the flow of human traffic is an exercise in futility.
The rubbish is starting to pile up, as are the people waiting for drink tickets - one line stretches the width of the playing field.
Communication is getting harder, with cellphone networks unable to handle the hundreds of thousands of text messages being sent.
Local darlings Midnight Youth played a strong 2.30pm set to much dancing and singing by fans, a contrast to the brutal riffs of one of the only metal acts here, Mastodon, who played the Blue Stage before Midnight Youth came on.
In an-out-of character move, Midnight Youth played a cover of Black Sabbath's War Pigs. It was a move which one punter (who did not want to be named) called a "travesty".
Moving on from the main stage, The Horrors are playing the 3.30pm set on the Converse Essential Stage - the indie-rock band entertaining an older, often more bearded crowd.
Mashup maestros Girl Talk are about to play in the Boiler Room, just as one of the bigger names of this Big Day Out, Kasabian, finish on the Blue Stage.
2:41pm: Things are heating up this afternoon at the Big Day Out.
People are starting to shed their already minimal layers of clothing and the water mounted fire-hose under the grandstand is being put to use - filling up people's drink bottles.
The stampede of people leaving the Green Stage area after Passion Pit finished boiled up a dust storm on the parched waiting area, but the crowd - made up of mostly indie kids - didn't seem to care.
This breed of fans seemed media shy, but a few managed to hang around long enough to share their views.
For Bryn Gilbertson, it was a toss-up between going to Parachute or the Big Day Out this year.
The 17-year-old drove the nine hour haul from Wellington to brave the crowds, heat, and inebriated patrons.
"It's a really crazy atmosphere," says the first-timer.
"There's more people piling in, it's going to start getting crazier," he says.
For some, a cold beverage is all they want.
Dave Coldicutt and Brigitte Rodda from Napier, both 22, have been looking for an hour for a place to get a beer.
"We just got here. It's intense. I need a beer!" Coldicutt says.
12:30pm The gates have opened and thousands of people have ventured through the gates of Mt Smart stadium for today's Big Day Out.
Everyone from tween ravers to grizzled old rock 'n roll vets have showed up to sweat it out in the heat. This particular reporter is glad he didn't wear jeans.
By midday local hip-hop superheavyweight PNC was lighting up the stage in the boiler room, with some dubious fashion statements standing out – some people were inexplicably wearing hoodies. In the boiler room. In the middle of the day.
Fashion in the field seems to be taking a swing back to the 90s.
Many thousands of pairs of jeans must have died an early death to feed the masses with an overwhelming supply of cut-off denim shorts.
Many trend-minded girls have also taken the scissors to their tops, chopping them down into crop-tops. Docs are also prevalent, a brave choice for the 23-degree heat.
The Checks have finished their set, with swarms of contented fans invading the staircases away from the main stage.
Madison Walker, 17, from Auckland, thought the show was great "I love them. I never miss a performance."
And what does she like about them?
"They're just good musicians. They look good too!" she laughs.
The drinking area is starting to get full, with lines stretching for at least 50m to get an entry wristband.
Mitch Julian, from Dunedin, missed out on the Checks because he was in line for a wristband – which shows what's more important for some fans.
"First things first!"
He's mainly here for Girl Talk, Kasabian and Muse.
"Girl Talk will be sick. Their mashups will be nice. Not a lot of people know about them, but they should," the Dunedinite says.
Auckland alternative up-and-comers Popstrangers earlier played on the Local Produce stage to an undeservingly small crowd, probably due to the restlessness of the punters who have been waiting since 9am to access the rest of the stadium.
Deja Voodoo have just ripped open the Orange stage with their dirty pub rock to a crowd of well over 1,000 people.
Spirits are high and there is a wide mix of expectations here.
A group of teens from Whakatane, with one young man's corpse-painted from the waist up, are here mainly to see Rise Against and Fear Factory.
As for the lineup – "it's pretty good this year. It's been better though", says Alex Hunt, 17.
"We've been here for ages," says Jordan and Tony, both 27, from Christchurch.
They are keen to see Muse, The Mars Volta, Kasabian, and in particular, Carnival.
"Karnivool are the dark horses. No-one knows them," Jordan says of the Australian band.
They both say this year's Big Day Out is lacking one main act, but the depth is there.
"It's pretty decent," says Jordan.
Meredith Chinnery woke up at 5.20 this morning to fly to Auckland from Christchurch for her first Big Day Out.
"Peaches is at the top of my list," the 18-year-old says. "I love her. I'm not a stalker, but..."
Grant Wingrove, 39, manages to make it to the Big Day Out every year.
"There's gonna be some good music and some dodgy stuff too.
"It's just good to be here, it's always good," he says.
Ticket sales
More than 45,000 people are expected to pack Mount Smart stadium today for the music festival.
Sales at 6.30am were just below 45,000, promoter spokesman Paul McKessar says.
He says there are still tickets left at the gate and at Real Groovy, but the venue sells out at a "smidgen over 45,000".
"We're stoked. We're really happy. Everyone's raring to go," McKessar says.
THE BIG DAY OUT 2010 - Friday January 15th
Mt Smart Stadium, Penrose, Auckland. Gates open 11am
Big Day Out map and timetable [PDF]