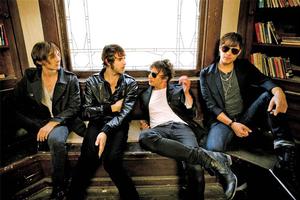 With their flared jeans, cocky swagger, and catchy garage rock, Jet were one of the biggest bands in the world back in 2003. That year the Australians released debut album, Get Born, which included break-through hit Are You Gonna Be My Girl, and follow up singles Cold Hard Bitch and Rollover DJ, and sold more than 3.5 million copies.
But their success was short-lived and these days they're just another rock'n'roll band touring the world and plying their trade. Yet brothers Nic and Chris Cester, and their bandmates Cameron Muncey and Mark Wilson, are doing okay.
"It's become more fun," says frontman and older brother Nic on the phone from Orlando, Florida, where the band are about to play the House Of Blues. "We're a lot more comfortable and confident because we know the right way and the wrong way to go about things. We look after ourselves a lot better than we used to too," he laughs.
Cester especially sounds as though he's doing nicely off the royalties from those first three big hits.
He divides his time between Australia and Italy and he calls his Milan home his "escape from this lifestyle and this world of debauchery".
"And my father was Italian. I'm half Scottish and half Italian which is why I've got a big nose and blue eyes I guess," he laughs again.
He says they had a hoot off the back of Get Born but also admits things got out of control.
"What happened to us with our first album was unrealistic and I don't really think we were equipped to deal with the success.
"Initially, when everything happened so quickly and we were young, and there was a little bit of fear and nerves, the way we dealt with that was drowning ourselves in alcohol and other things."
To make life worse, in August 2004 and at the height of the band's success, the Cesters' father died of cancer. They wrote the song Shine On in tribute to him and it would become the title track to their second album in 2006. However, the record was not well-received and their popularity waned.
"We survived all that and we're a much better band for it," says Cester light-heartedly. "We're stronger, more savvy and more comfortable in our own skins."
But rather than it just being a matter of the band growing older and wiser, Cester says after these tough years they decided to refocus - and the result is third album, Shaka Rock, released in September last year. "It's a new level of commitment and we realised if we were going to do this seriously we needed to change our attitude.
"The basic plot was to have fun again and take back control of our lives and careers - and we really wanted to do something musically that was more indicative of us again. By that I mean a really fun album, and an excited rock album, and add a few more twists in there that people wouldn't normally expect."
Lowdown
Who: Jet
What: Garage rock pop out of Oz
Where & when: Big Day Out, Green Stage, 2.45pm-3.30pm
Latest album: Shaka Rock