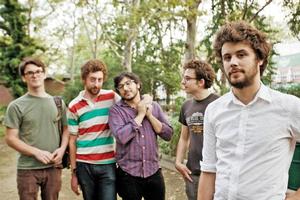 Michael Angelakos, an articulate guy with a beard, says he finds his rush to fame rather bewildering. The vocalist and songwriter had just scraped 20 when his personal electronica project - "a playful thing" - hit the internet, and Passion Pit went viral.
Most people with Passion Pit's music on their headphones probably downloaded it. But considering how far the band has come since, Angelakos says he doesn't have a problem with giving his tracks away free.
"Everyone needs to pay rent but I think at the end of the day you've got to understand that we are where we are because of the internet and sharing. People were attracted to the music, liked it and downloaded it and we started playing more shows and people started coming to them."
Since the release of Manners in May last year, Angelakos and his band - now aged 22 to 24 - have toured America, Britain, Japan before heading on their Big Day Out excursion of New Zealand and Australia. "It's quite big walking into all this after only being a band for a year but you just have to rise to the occasion, I guess.
We do feel like babies that's for sure. It's a weird industry to be put in where everyone you are friends with is 35 years old," he says.
For Angelakos, the allure of music has always been in the art of making it, not any subsequent fame, fortune and fancy invites.
His father is a music teacher, so naturally he has been tinkering with tunes since he was very young. He was raised on everything from opera to the Beach Boys and his own music ranged from folk to ska-punk.
Angelakos says he was always terrible at studying music, but had a deep understanding of it - he wanted to play his own songs, not other people's.
One day, not so long ago, he slipped some electronics and computers into his tracks, and came up with an EP that he named Chunk of Change - apparently it was a Valentine's Day gift for his girlfriend. Then word got out ...
"We would like to reinforce the notion that it is possible to make mountain out of a molehill. For us we really didn't try to do anything, we just did what felt right. And then we shared it with someone else. We hope people just share their music. I was very insular and didn't share it with anyone and then finally I did and I've been greatly rewarded."
Passion Pit's jovial sound has been described as channelling 80s pop but Angelakos prefers to stay away from the throwback tag.
"I get the 80s thing. But just because we use synthesisers and drum machines you know it's not necessarily 80s. It's dancepop - at the end of the day I could play those songs on a piano and it wouldn't be an 80s song at all. To me it's pop music and I stand by that. I love pop music."
Passion Pit's official bio describes the band's songs as "pitch-perfect pop with hooks that nip at your heels and choruses that burrow into your brain".
"To me all good pop songs are essentially that in a nutshell," Angelakos says.
Lowdown
Who: Passion Pit
What: Dance pop from Boston
Where & when: Big Day Out, Green Stage 1.15 - 2PM
Latest album: Manners