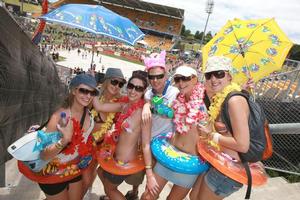 Auckland's Big Day Out is upon us and this year the weather may play a slightly bigger part than previous years...but only slightly.
A small area of low pressure is likely to form over the Auckland/northern NZ region - that means the sky becomes a little more unpredictable and the chance of showers increases.
Forecast for Friday in Auckland:
- Fairly Cloudyat times but mostly dry with a chance of a shower (about 40 per cent confidence) this afternoon or evening.
- Southerly winds picking up and turning sou'east and strengthening further in the afternoon or evening.
- High of around 25 but could feel more like the low 30s at the stadium. Drink plenty of water!
- Temperature in the evening will be around 17...would pay to take a jersey or coat if you feel the cold easily.
THE BIG DAY OUT 2010
Friday January 15th
Mt Smart Stadium, Penrose, Auckland
Gates open 11am
Big Day Out map and timetable [PDF]
* Are you heading to the Big Day Out at Auckland's Mt Smart Stadium? If so, we want to hear from you.
We'd like you to send us your photos from this year's event so we can feature them online.
Please include your name with your photos and - if it's not clear - what the photo is of.
Click here to send us your Big Day Out 2010 photos.