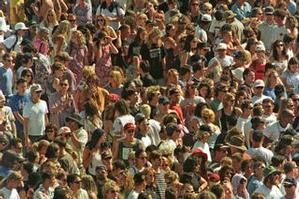 Desecrate the holy church, desecrate. Fill the abyss with your hatred, slaughter my child.
There's no suggesting the author of this delicate lyric actually wants his fans to adhere to its message but it is worth noting that it may get an airing at the Big Day Out at Mt Smart Stadium on Friday.
The song is called, surprisingly, Desecrate, and the band is Fear Factory, one of America's pioneering metal acts who have enjoyed musical success into their 40s.
Taking one of Burton C. Bell's nihilistic lines out of context and asking listeners to take it literally is the aim here if you can actually make out the words when they're being performed.
It is worth acknowledging the literary risks some of the festival's musicians take when they write.
Especially after a fellow BDO act was dumped from the event after protests over his homophobic lyrics. Beenie Man has rapped some unrepeatable things in the past but even he must be miffed at all the heathens allowed to stay on the line-up. Which is pretty much everyone except Powderfinger.
Take, for instance, the Horrors, whose frontman, Faris Rotter, imagines himself "hacking desperately at a sea of appendages, forward and right, freeing myself like a butcher, feeling the mash of bone and sinew" on the song Gloves. Hope he has more luck with the New Zealand lamb.
Don't be fooled by the Mars Volta's soft hair, either. Their boyish good looks become sinister when Cedric Bixler Zavala expresses his desire to "feast upon the carcass of your mother" and offers detailed descriptions of what you're likely to find in a brothel's bedpan in a charming ditty about eunuchs.
Mastodon are keen necromancers who chat with Beezlebub. "Cyanide he craves," sings Brent Hinds on The Last Baron, "coursing through his veins, providing him with strength to see this to the end."
He could be talking about enduring a root canal, so let's not jump to conclusions. Then again, he might be referring to the fight he started after the 2007 MTV Awards that led to a brain injury.
You have to wonder how a band like Rise Against will cope. Known for their anti-war songs, the American band caused offence to soldiers who had served in Afghanistan and Iraq when they released Hero of War, a ballad about a proud military man who gets carried away doing unthinkable things to POWs.
"I told them to stop but then I joined in," sings a solemn Tim McIlrath. "We beat him with guns and batons, not just once but again and again."
Even Lily Allen - hardly comparable to the likes of Metallica, Slipknot or Nine Inch Nails, who have graced the BDO stages close to her 7pm time slot in recent years - gives teenage girls something to aspire to when she complains about getting no satisfaction on the song Not Fair. Only difference between her and Mick Jagger is she is quite specific about why she deserves it.
Allen is not the only one with a depraved tongue and silly outfits. Peaches, the electro-pop artist spotted at a previous Big Day Out trying to lick her own armpit, says the way to resolve the housing crisis is to erect a "tent in your pants". This misleading advice is causing no end of trouble for the Tenancy Tribunal. The boot must also come down on headliners Muse, who are either intent on exterminating John Key or recruiting for Tame Iti's latest venture in the song Assassin: "War is overdue. The time has come to shoot your leaders down." It is not yet known if the Prime Minister is planning to attend the festival, but security will be watching closely when Muse's anarchistic frontman, Matthew Bellamy, swaps his guitar for the piano on Apocalypse Please.
Dizzee Rascal, who has progressed from the Boiler Room tent to the main stage, recently released a music video with the Newham Generals, featuring scenes of explicit street crime. "With a nine mill I'm a top gun but I shoot better with a shotgun," he raps. Not to worry. In 2008, he produced a baseball bat during a road-rage incident.
Speaking of the Boiler Room, should we be worried that the charmingly spoonerismed Bang Gang DJs will be playing? Or that headline act Groove Armada are best known for a song about derrieres? Should we be concerned a New Zealand band called Evil will command the Kiwi stage for 40 minutes? Or that those P-smoking Deja Voodoo lads are on before it's time to queue up for a doner kebab?
Perhaps most dangerous of all is the clandestine world of the Silent Disco, a place where you won't have any idea what the kids are listening to unless you risk humiliation, don a pair of headphones and start dancing to your own private beats. Played backwards, of course. Parents, enter at your own risk.
THE BIG DAY OUT 2010
Friday January 15th
Mt Smart Stadium, Penrose, Auckland
Gates open 11am
Big Day Out map and timetable [PDF]
* Are you heading to the Big Day Out at Auckland's Mt Smart Stadium? If so, we want to hear from you.
We'd like you to send us your photos from this year's event so we can feature them online.
Please include your name with your photos and - if it's not clear - what the photo is of.
Click here to send us your Big Day Out 2010 photos.