Are you going to the Big Day Out? Click here to send us your Big Day Out 2010 photos to be featured online.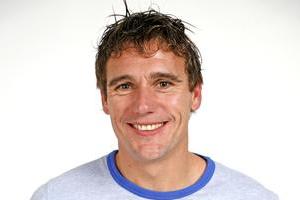 The Big Day Out, the premiere music event of summer, is back again.
We talk to some of the entertainment world's popular radio personalities about their best BDO experiences over the years.
Dominic Harvey
Dominic Harvey dreamed of being a radio DJ since he was a kid.
Now one of three presenters for The Edge's Morning Madhouse, Harvey has been a part of the radio world since the age of 17.
His biggest hurdle in his early days was getting "a deep 'radio' voice", now those days are gone Harvey is a staple of morning radio and looks set to continue to do so.
Top BDO moments:

- "Coldplay 2001: So new on the scene that they did a little free showcase to 1000 people at Galatos the night before. This was Coldplay when they were young, fresh and full of potential and promise. Didn't seem that special at the time but with the benefit of hindsight..."

- "The White Stripes 2006: 30,000 people singing along to My Doorbell was pure magic."

- "Metallica 2004: A crowd unlike any other Big Day Out.
The girls in Von Dutch caps (the trend of that year) were out numbered by the guys in black shirts. I'm not a Metallica fan, but this was an incredible band (and crowd) to watch."

- "The entire Big Day Out 2000: The first month of a new millennium and it was an absolute scorcher of a day – it must have been close to 30 degrees. "Along with the hot weather it was in my opinion probably the finest BDO line-up ever: Red Hot Chili Peppers, Basement Jaxx, Blink 182, Chemical Brothers, Foo Fighters and Nine Inch Nails."

- "Passion Pit in 2010: Ok, so this has not happened yet but I am amped about seeing these guys. Their debut album is great."
Nick D
Nick D is no stranger to the music industry.
Merging the lines between media and artist, the DJ, radio and television host has a firm stranglehold on the New Zealand music industry.
Having first got involved with radio when he was but a wee lad of 13, he's been around the music industry for over a decade interviewing many famous faces from around the globe along the way.
Top BDO moments:

- "Getting caught stealing Australian band TISM's rider when I was about 16. They used to wear masks, so you never knew what they looked like. I was getting stuck into their beers then a guy walked in and asked what I was doing and I said 'I'm stealing TISM's rider, would you like one?' He was one of the band and told me to f*** off."

- "Side of stage for Concord Dawn BDO 2005 when they dropped Morning Light, the whole place went so nuts - it was the most electric thing I've ever witnessed in my life. Then later that night stuck in the middle of the sweatiest Boiler Room ever, Chemical Brothers dropped Star Guitar - cue more nutty electric-ness."

- "1999: The year that the organisers really got it wrong (sorry BDO team you know I love you). The main stages had all closed down and Fatboy Slim was still playing the Boiler Room back when it was this tiny tent that could fit around 3,000 people. Needless to say you had the whole gig fighting for that space and it was proper pandemonium."

- "To be honest, I've been lucky enough to work at the BDO every year since 1995 and just running around meeting and getting to interview some of my favourite bands in the world has been awesome. That and a clean portaloo on that long, long day go along way."
Bryce Casey
Bryce Casey used to do the midnight show for The Rock - that was until he got the call up to do the premiere spot on The Morning Rumble.
Now, one of four Morning Rumble hosts, Casey has perhaps one of the cooler jobs in radio.
Having interviewed Metallica, Tool, The Foo Fighters, Rage Against The Machine and many other bands, he is living a rock-lovers' dream.
Top BDO moments:
- "Apart from having a laugh as I see the kids head into the mosh pits and then realise they shouldn't have...my best memory is having had the chance to interview and meet some of my favourite bands like Tool, Kasabian, Muse and Rage Against the Machine. Big Day Out is always a great day with many great sights to see."

- "Being really intoxicated dancing to myself, by myself, to the Violent Femmes. I'm pretty sure I looked awesome."

- "2004 - Seeing Kings of Leon, The Strokes and Metallica all on the same bill. This was tarnished somewhat by having to wait half an hour for a port-a-loo and then being in it hearing my favourite Strokes song happening as I took care of business."

- "Year 2000 was the second BDO I attended. I remember it being really good weather and just a sick lineup that included Shihad, Salmonella Dub, 28 Days, Blink 182, Foo Fighters, the Chillis, Nine Inch Nails, Joe Strummer and The Hellacopters, amongst others. Plus I remember thinking what a knob Mathew Ridge was dancing with his shirt off to Basement Jaxx - mind you I was 3 feet away probably doing the same."
- "My very first BDO experience – having one too many early in the day then seeing what looked like a million people moshing to Soulfly at around 2 in the afternoon, Marilyn Manson showing the crowd things they didn't wanna see, then Courtney Love whipping out a nipple."
THE BIG DAY OUT 2010
Friday January 15th
Mt Smart Stadium, Penrose, Auckland
Gates open 11am
Big Day Out map and timetable [PDF]
* Are you heading to the Big Day Out at Auckland's Mt Smart Stadium? If so, we want to hear from you.
We'd like you to send us your photos from this year's event so we can feature them online.
Please include your name with your photos and - if it's not clear - what the photo is of.
Click here to send us your Big Day Out 2010 photos.