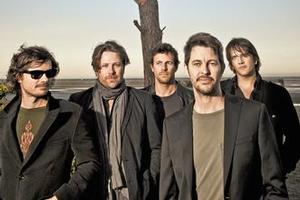 With the release of their seventh album, Powderfinger are set to become one of the most successful Aussie rock acts around. While they're not quite AC/DC, they have clocked up more than two million album sales in a 20-year career - and that number is set to rise with The Golden Rule entering the Australian charts at No 1 this week.
In New Zealand the band struck it big with 2000's Odyssey Number Five, which included beautiful breakthrough hit My Happiness. That album, the band's fourth, went on to sell more than 25,000 copies here and since then they have had a steady run of success with Vulture Street and last album, Dream Days at the Hotel Existence.
But it hasn't been all happy families in recent years. For starters there have been incessant rumours about their impending break-up. Just a few weeks ago the Australian media was abuzz with rumours about an imminent split, which singer Bernard Fanning is quick to dismiss.
"That happened for our last three records, so that's nothing new," he chuckles, on the phone from his hometown of Brisbane.
"Part of the idea is probably that we're not too involved in show business. We're pretty successful in Australia but we're not the kind of band that goes to movie premieres or society parties and I'd say that gives people reason to speculate," he says.
The band were also not entirely happy with their last album, the grandly titled Dream Days at the Hotel Existence from 2007. For new album, The Golden Rule, they decided to do things differently.
"We wanted to change our songwriting habits," explains Fanning. So on The Golden Rule the five-piece tried a different approach in terms of how songs are structured and the process of putting a song together.
"From a lyrical point of view I was trying to be more economical, to say more with less if possible, which on some songs I completely failed and ended up with total verbal diarrhoea," he laughs.
The band formed in 1989 in Brisbane and since 1992 their line-up has remained steady with Fanning on vocals, Darren Middleton and Ian Haug on guitars, John Collins on bass, and Jon Coghill on drums.
Since then it's been about more than just the music. They have repeatedly caught attention with taking a stance on political and social issues - performing at WaveAid in the aftermath of the 2004 Boxing Day Tsunami, raising funds for breast cancer, and in 2007 they teamed up with Silverchair for the Across the Divide tour promoting the continued reconciliation with Aboriginals.
But Fanning insists it's a misconception Powderfinger are a political band.
"It's just a matter of writing of things you observe and what's on your mind while writing the songs. On this record there is nothing in particular that has a political bent, it's more about the politics of relationships between people rather than party politics or anything like that," he says.
Another project Powderfinger have committed themselves to is Movember, dear to many Kiwi blokes' hearts.
"Everybody is looking particularly disgusting at the moment," Fanning says of the band. "I was confident that I had more hair on certain parts of my face but that didn't work out that way."
But it was "fabulous timing" for looking slightly ridiculous, with the band performing an album release gig earlier this month from their rehearsal studio in Brisbane, streamed live via the internet worldwide.
Fanning wasn't sure if there were plans to put the footage up for download.
"I'd say if you missed the live version, there will certainly be an opportunity for you if you know your way around in Google," he hints.
The Golden Rule will be the first album released as an iTunes LP by an Australian band.
"It's the album, people would normally buy or download plus a couple of bonus tracks, some outtakes, plus a whole lot of links to the history of the band, discography, lots of photos, video footage from the studio, that wouldn't feature anywhere else," he explains.
The first chance for Kiwis to see the band play live will be at the Big Day Out, but Powderfinger also plan a tour for the middle of next year.
"We think it's the best record we've made for a really long time and we're really pleased to have made something we're really happy to go out with and play."
Lowdown
Who: Powderfinger
New album: The Golden Rule, out now
Key albums: Odyssey Number Five (2000); Vulture Street (2003); Dream Days at the Hotel Existence (2007)
Where & when: Big Day Out, January 15
- NZPA