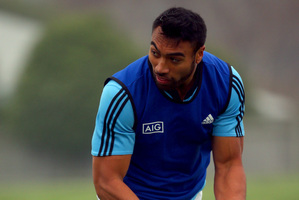 There was a line that divided the Wellington Lions' changing shed when the ITM season began. On one side stood the old heads, the men who had chewed on the sour buds of fruitless title campaigns and gagged on their awful taste. Though they couldn't have been called a majority, they carried with them the heavy burden of failure at the final hurdle. They were a reminder of how things that promise so much can amount to so little. For them the words of Heywood Broun rang true: "The great tragedy of life is not that man loses but that he almost wins."
On the other side sat the new breed of Wellington player, a crew of kids who hadn't sat in this very same room on a night when the songs of victory seeped through the other side's changing room door and leaked into theirs, filling the silence with the sound of what might have been. For them, motivation came not in thoughts of vengeance and failures past. For them, motivation was not the past at all, but a future that comes with titles and trophies and belief built upon the foundations of success rather than perennial potential.
The Wellington coaching staff could sense the line and began the work of moving it, and nudging it and pushing it and redefining it so that eventually, and without articulating the act, the players all stood on one side. No longer did the line divide the team, it unified the team. Here, on this side, now stood the Wellington Lions, edition 2013. On the other side: the ghosts. Suddenly all the players could look at that line and see it for what it really was: the line between then and now.
One coach spoke openly to his players about the mistakes of his own past and in the telling he reminded them that while those mistakes cannot be forgotten, they can serve to strengthen rather than to undermine. At some point, he told them, they cease to define who you are and begin to illustrate how far you have come. Perhaps it could prove yet to be the greatest of team talks, but there is one final chapter to be written in this ongoing exorcism of Wellington rugby.
That chapter begins tomorrow night, at 7.30pm, when the Cantabrians run on to Wellington's home track as both their grand final nemesis and polar opposite. This is a Canterbury side that has no need to push its past into the darkest corner of the changing room; a side whose only line is a dynastic one, the genesis of which can be traced back six years to the very venue they will play at tomorrow night; six years ago when a converted Hayden Hopgood try beat two Piri Weepu penalty goals and, in the lowest scoring final in Division One history, Canterbury lifted the first of five straight Cups.
How much that success still powers this team. How often they win games based on belief as much as ability. This Canterbury team carries as much of a burden as Wellington. The difference is theirs is one weighted with the expectation of victory, rather than defeat.
These are two distinct teams with two distinctly different driving forces. Canterbury will attempt to add to its legacy, Wellington to bury its past.
If the home side is to be successful they will have to mitigate the competition's best percentage defence, and best attack. Canterbury has made more metres and more clean breaks and beaten more defenders than any other side this year. And they'll have to kick points. It must be of concern to Wellington to come into a final with the competition's second worst goal-kicking percentage. And they'll have to overcome a season stat sheet that shows an edge for Canterbury in every area of the game apart from the lineout. And they'll have to pressure Tyler Blyendaal, who has once again gone about his work with a minimum of fuss, and who misses few tackles, and makes fewer bad decisions.
A big ask? Of course. But then, Wellington's trump card is captain Victor Vito, who has done all that could be asked of him, who has been the form No 8 of the competition, who can turn a game with a tackle or a break and who must have been wondering, when his name was not called by the All Blacks selectors, what more he must do to convince them that the Victor Vito of today is not the Victor Vito of the past.
Funny how in a game that serves to both find a national champion and to measure history's hold on the present, Vito's personal line nearly mirrors that of his team.
Not always top dog
Wellington may be happy to have finished as top qualifier in the ITM Cup but history shows that is far from a guarantee in terms of winning the competition. In fact, since the play-off system was introduced to provincial rugby in 1992, the top qualifier has gone on to win the competition just 11 times in 21 years. In better news for Wellington fans, only seven times has the away team managed to win a final away from home: Auckland in 1994, 2002, and 2003, Wellington in 2000, and Canterbury in 2004, 2008 and 2011.
21 years and counting
The Heartland finals are always great occasions, but for one Buller man, a win in the Lochore Cup title match against South Canterbury in Timaru on Sunday could be the best early 40th birthday present yet. Thirty-nine-year-old Phil Beveridge (who turns 40 next week) is not a man most New Zealand footy fans would recognise but he deserves a massive mention here for the fact that this match will bring to a close the first 21 years of his representative career on Sunday. Yes, 21 years. Debuting in 1993, the White Star prop brought up 100 provincial championship caps against East Coast this year, and has missed only one match since 2007.
Speaking of long service...
The Lochore Cup final will also mark a milestone for another Buller stalwart. Luke Brownlee will be playing in his 125th consecutive provincial match - a national record in any division. He has actually played in 133 consecutive matches, including non-championship ones, and will finish the season just three shy of the all-time New Zealand record jointly held by Tom Stuart, of Buller, and Ray Sutherland, of Marlborough. Brownlee was a replacement in three of his first four games but the 33-year old openside has started every game for the past 13 years. It's hard to believe that after all those games he has scored just two championship tries.