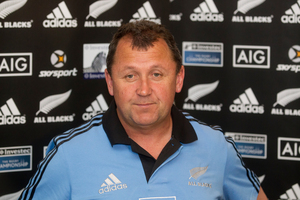 The All Blacks have been pretty successful in 2012 and 2013 and for that reason, it would be hard for the New Zealand Rugby Union to make any changes to the coaching team. It just doesn't happen in rugby - a team going well, deciding to cut coaches.
South Africa did it after the World Cup: Jake White was successful and yet they got rid of him. That was rare indeed and probably driven by political agendas rather than rugby agendas.
I can't imagine the NZRU will do anything like that with the current set-up. How would they justify it?
I suppose, Ian Foster and Aussie McLean would be the two you would look at the hardest primarily because they are most directly involved in the way the team actually plays. Mick Byrne is a skills coach and Mike Cron still does most of his work around the scrum.
Foster has surprised m ea wee bit. He took the role after his time with the Chiefs where he wasn't particularly successful.
But it's hard to argue with the results since he came on board with the All Blacks.
I would imagine that in the All Black set-up, he's not only in a role that suits him better, but that any ideas he has he will run them past Steve Hansen, Byrne probably even Grant Fox and a few of the players as well. There are some experienced and smart players in the current side and they would sniff him out quickly enough if they felt he wasn't up to speed.
It's much the same with McLean, too, who has held a number of other coaching roles and done well to carve out a long career.What these guys have most in their favour is that Hansen clearly likes working with them and is doing well working with them.
You could argue there are better coaches out there than both Foster and McLean but what those two have is the support of the head coach and strong enough results to say things are working well and that there isn't any need to make change.
They have built up an understanding and Hansen has built a team. So while Hansen is head coach, I see these guys being very much part of the picture. If he clears out, then they too will be swept out.
But while the NZRU is likely to retain the wider coaching team through to the World Cup, they will have clauses in there that will allow them to reconsider that if form and/or results are not what they want. I would say that Hansen will have that right, too: to change his mind and make changes to his team should he feel he needs to.