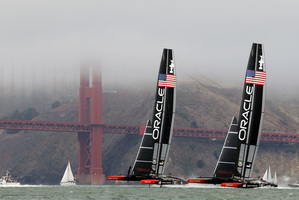 It has always seemed strange that San Francisco - a city famed for its hilly topography and notoriously steep streets - is considered a cyclist-friendly town.
Considering the city's famous cable cars, laden with tourists and their expensive camera equipment, labour their way up the hills like an old clydesdale, it's hard to imagine how cyclists cope with the intimidating inclines. And yet they are everywhere.
Not just your Lycra-clad ones with those clicky, clacky shoe things either, but also your everyday business commuters - the men with their pants tucked into their socks so as not to get them caught in the chain, chic women in their sunhats and summer dresses who make cycling look a serene experience, and of course plenty of tourists wobbling their way around Fisherman's Wharf.
Given the gradients of some of the streets - just looking at them is enough to send lactic acid searing through your quads - that's one hell of a commitment they're making to reducing their carbon footprint, I said to one of the locals.
"You know about the wiggle, right?" came the response. And thus, the secret of the smug commuters was exposed.
Well, it's not exactly a secret - the wiggle really hides in plain sight.
It seems those with intimate knowledge of the city's streets discovered a way to traverse San Francisco east to west without encountering any hills.
Following the old Sans Souci Valley, the aptly named wiggle zig-zags through the city from Market St, San Francisco's main arterial, through Lower Haight to the Panhandle, which links up with the network of paths through to Golden Gate Park.
With the inclines averaging 3 per cent, it is literally the path of least resistance.
And it is a path that has been trodden for hundreds of years.
According to the history books, before Europeans settled in San Francisco a route very similar to that which is now known as the wiggle was used to connect two Indian villages.
These days you don't need to be a skilled navigator to traverse the wiggle - the city has painted the way, with green bicycle lanes along the busier streets and large signs marking the turns.
I set out one evening to ride the wiggle. I needn't have bothered spending 10 minutes trying to memorise the route. It was obvious, not only because of the handy signs, but because of the throng of other bikers following the same path. I had suddenly acquired a posse - an impromptu bicycle gang - together winding our way through the streets.
Therein lies the true beauty of the wiggle. It is more than just a flat path providing relief for your quads. It is a community.