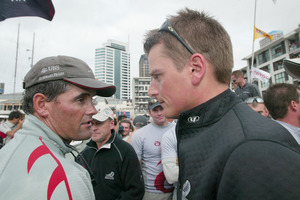 Quote of the week, from Steve Hansen ...
"Ewen can do what he likes, I guess, but I can sit here and pick holes about how often they took us out, held on to us after the ball was played, obstructed us in the midfield. I could do all of that but I'm not going to."
To steal a page from the All Black coach's playbook, this column is not going to say any of the following about the America's Cup:
* It is a plaything of the rich and represents where power and influence lie. The master race gets what it likes in terms of public money for rugby and yachting because it can.
* How come millions of public dollars get thrown at the America's Cup, but when a bloke brings an international speedway to Auckland, he can't get a red cent in support?
* There has never been any convincing study that shows the America's Cup has economic worth to the country.
Some established businesses actually struggle when the America's Cup is held here because all the wide boy pop-up-shop merchants suck up the cash. But the pro-Cup brigade love to pretend they are really trying to help the nation.
* The world isn't run on policies any more. It is run by image-makers, polls and the lobby system. Who rang whom, and who said what to whom - that would be the interesting part of the America's Cup funding.
* The ruling classes who claim the Cup is an economic winner only have an interest in the trickle-down effect when it makes consistent plopping noises in their own wallets. Most economic policy these days doesn't make one jot of difference to people who are struggling.
* A lot of economic studies turn out to be a load of #$%@ anyway. I stopped believing in them when the Treasury decided the Rugby World Cup would cost about $70 million.
But hey, the world ain't fair and the rich getting richer and pretending the poor are also getting richer is one of the oldest tricks in the book.
Truth is, I'm looking forward to this America's Cup as much as the next double-talking freedom fighter. Why? Because it is BARKER v COUTTS, even though it's not strictly head-to-head.
That's what the best sport is all about - intense, personality-based rivalry. I've taken to Dean Barker's cause ever since watching his boat go under the Waitemata waves, with a bucket as a distress signal. It would be horrible to see Barker going down the gurgler again and he seems like a decent, humble bloke.
Then you have Russell Coutts - the ratbag. He jumped ship, left New Zealand to sink, is a heartless, cold, ruthless yachting assassin. Well, that's the story, and every great sporting clash needs a storyline. This one isn't so much David v Goliath, but Cain v Abel. Coutts is Barker's tormentor. He's our hero turned tormentor.
Seat of the pants racing, a nation on edge, vitriol, controversy, humour, despair, jubilation, learning new yachting terms ... there is the potential for all of that in the upcoming series.
The lead-up racing in the Posh Luggage Cup has been a joke. But this America's Cup sceptic has had to get over the political angles. The fact is, I can't wait for the real racing and all the associated shenanigans to begin. It's going to make sporting life very interesting for a while.
Clear it up
Calling Jaco Peyper. The second Bledisloe Cup match has left a trail of conspiracy theories about how the All Blacks rule the rugby world. It would be nice to at least know why South African whistler Peyper did not go to the video referee, and ruled out a try to Wallabies frontrower Stephen Moore. That's the one inexplicable call in need of clarification.
Go Ko, go
The amazing teenager Lydia Ko is well on the way to becoming No1 in the world for women's golf and we should be able to watch her go all the way. Sky TV did a great job of covering her latest triumph at the Canadian Open. One way or another - traditional TV or streaming - we will be able to witness what promises to be a long and stunning career. Ko is an inspiration, and hopefully for women's sport in particular which struggles for recognition and airtime. Maybe's Ko's dedication extraordinaire and success will also rub off on our young male golfers - we haven't got close to achieving potential in the men's professional game. Once again, congratulations, young lady, and likewise to your parents, coach Guy Wilson and the rest of the team.
No need for EPL after all
Is this a common experience ... having skipped the once-treasured English Premier League so far because the new internet coverage delivers dodgy picture quality, I'm not missing it. Maybe this is an age thing - time is too short to spend too many hours on the couch, sucking up sport. I'm sure I'll sign up in the end, but the EPL revolution has raised a few lifestyle questions. A soccer-obsessed mate who has also bypassed the EPL declared the German Bundesliga - available on a freeview channel - interesting enough to rate as a decent substitute. He's got me thinking, the trouble being this will involve digging under the house for one of those old aerials I thought had become obsolete thanks to the little grey satellite dish. Come to think of it, the old aerials may have been chucked on the scrapheap.