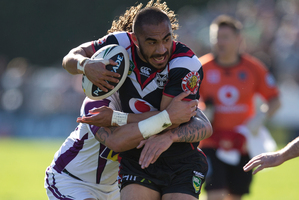 Three weeks ago I was convinced the Warriors would make the top eight but I don't think they will now.
Their decline over the past three weeks has been alarming and it's hard to understand exactly why.
I wonder if they are mentally and physically fatigued after a hard block of training and games and it has meant the players aren't pulling their weight.
When they were playing really well and notching the wins together, did they continue to train too much? The question needs to be asked of the trainers because something needed to be done to freshen up the players.
There has certainly been a drop in energy at a pivotal time in the season and it's difficult to understand why they are playing with such a lack of intensity. I can only think it's fatigue.
But players need to push through that. At present, it doesn't look like some want it enough and fans deserve more than that.
There are exceptions, of course, and many of the Warriors could learn a lot by looking at Thomas Leuluai. He shows how much it hurts every time he plays and shows a huge desire to win. Maybe his teammates need to take a leaf out of this seasoned professional's book.
Bringing the right attitude is something all players can adopt. It's very difficult to make up for deficiencies in skill and pace but they can always try to run hard and tackle hard.
Often players don't appreciate how quickly their careers are over and there are only limited chances to achieve something great. When an opportunity comes along, you need to jump on it quickly rather than assume things will happen down the track. Before you know it, guys like Elijah Taylor, players who give everything for the team, are gone.
In saying all that, the long-term vision of the club still needs to be considered. They are right to put more of an emphasis on discipline and hard work because training the players harder is the only way forward for an NRL club - it's just a matter of managing things throughout the season to try to ensure they play at their peak.
The Warriors have proved this season they can foot it with the best, having beaten three of the top four sides, but the only way to win premierships is to beat teams you should throughout the season. It's no good toppling the Storm and Roosters if you can't beat the Eels and Panthers.
The race for the top eight is most definitely on but the Broncos seem to be building momentum that will take them into the playoffs. They are starting to get players back at the right time and are a desperate and committed outfit.
The Cowboys are also building nicely. They have the personnel, with one of the best teams in the competition, and are starting to get things right after a season of underachievement. They have some tough games to end their season but it shouldn't matter whom you play.
It's a mindset the Warriors should adopt every week.