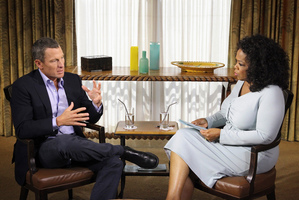 I had intended to avoid the subject of Lance Armstrong in this column.
But, like most of us, I've been sucked into the hype generated by the Oprah machine.
The lady who elicited Tom Cruise's couch-jumping episode in which he proclaimed his love for Katie Holmes (I can't help but feel he would have been better off getting a tattoo - at least they can be lasered off) has confirmed Armstrong has confessed to using performance enhancing drugs.
With her emotive interviewing style, you can bet she managed to squeeze out a tear-stained mea culpa from the disgraced one, before they hug it out at the end. It will make for gripping viewing.
But if you're after an honest and heartfelt cycling confessional, you'd be better served reading British rider Nicole Cooke's retirement letter.
It is probably less of a letter and more of tirade, but it is well worth reading Cooke's long and detailed account in full.
Much of it would form a compelling basis for her own book deal. But then, female cyclists don't get book deals - especially not if you're clean.
Cooke has won just about every honour in her illustrious career that lasted 11 years and saw her crowned as world and Olympic champion.
At the age of 29 she is hanging up those clicky cycling shoe thingees - relatively young for a sport known to produce champions in their mid to late 30s.
That's because despite her success, cycling has, at times, been cruel to Cooke.
She's endured a horror run with injuries, numerous pay disputes with her employers, a couple of run-ins with her national teammates and, with her career coinciding with an era tainted by doping scandals, she has watched on bitterly while the cheats prosper "on the way up and the way down".
In her brutally frank letter, the former Faren Honda team rider took aim at Armstrong, his former teammate Tyler Hamilton, and other drug cheats who "robbed" her and other clean riders of victories and prize money.
"When Lance 'cries' on Oprah later this week and she passes him a tissue, spare a thought for all of those genuine people who walked away with no reward," Cooke wrote.
And later: "Tyler Hamilton will make more money from a book describing how he cheated than ... I will make in all [my] years of honest labour."
Giving the timing of Cooke's announcement, it is her eloquent and well-considered broadside on the drug cheats of the sport that have been seized upon and run at length by the world's media.
Largely ignored have been some of the pertinent points Cooke made about the demise of the women's side of the sport and the UCI's shameful attitude to women's cycling.
She claims the international body is more concerned with protecting its own image than the rights of female cyclists.
Their refusal to impose a minimum wage for female pro riders - a right afforded to their male colleagues and all employees in most developed countries - certainly supports this theory.
But as they say, that's a whole 'nother show, Oprah.