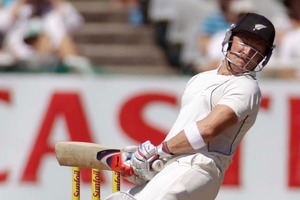 It has come as a surprise to some scribes that South Africa are beating us convincingly in this test series.
Just last week Mark Reason wrote an article suggesting that the New Zealand cricket team haven't accepted responsibility for their inept batting display in the first innings of the first test at Newlands. Reason believed Black Caps' skipper Brendon McCullum needed to take complete ownership for his team's performance by saying "I'm ashamed" of being the captain of a team bowled out for 45.
The writer went on to compare the team's lack of self derision to a family's antipathy toward a drunken quad bike driver who injured a six-year-old girl recently, leaving her seriously ill in hospital. He concluded the family of the girl and the captain of the New Zealand cricket team came from the same generation - a generation apparently unwilling to own up to the consequences of their actions. Nigel Latta would be proud.
I understand as a sports fan that it's easy to get disappointed when your team under-performs.
I love nothing more than watching New Zealand compete with better, more talented cricket teams. Who doesn't enjoy watching David give Goliath a nudge in the nuts? But things are getting silly when journalists compare a quad bike accident with a batting collapse. Maybe the writer was just struggling to come up with ideas for the week.
Whatever the excuse, I'd suggest to Reason that the people most upset about being bowled out for 45 are the team who were bowled out for 45. Obviously they tried not to be bowled out for 45 but they were outclassed. No professional sportsperson sets out to be humiliated. McCullum fronted for the press conference. He owes the public nothing more.
That same week I read a tweet from a fan angered that Martin Guptill was considering taking four hours off training to swim with sharks after the team's loss. The tweeter suggested that Guptill was irresponsible ... after scoring 0 and 1 he should be in the nets all day every day, watching Jeremy Coney's cricket video at night and flogging himself with an SS Jumbo. Enjoying himself during his time off while the fans suffer? How dare he!
Maybe it's time we started burning effigies in Queen St? I've got some old pantyhose left over from knocking bats in as a kid. If we stuff that with old linseed rags, make a paper mache head and douse it in 98 octane, perhaps the team will perform better in the ODI series? How about we wait at the airport and spit on them?
Sadly, every cricket fan with half a brain knew the outcome of this tour before our team sampled the blue cheese in the Koru Lounge. Not surprisingly, the No8 team in the world (without their four best players, Daniel Vettori, Ross Taylor, Jesse Ryder and Tim Southee) have been completely outclassed by the No1 team in the world (at full strength).
Richard Boock wrote a great piece last week explaining the correlation between money and success in professional sport. He pointed out that the top-ranked cricket nations are also the wealthiest. South Africa, England, Australia and India each earn five times the revenue of their closest rival. Money means development. Money means resources. Money means success.
So here's my prediction for the ODI series ... we'll lose 3-0. If you want to make yourself feel better put some money on it. You may make enough to replace your mum's pantyhose.