Pair must learn to work together, and if that can't be achieved then coach Hesson is the man who should go.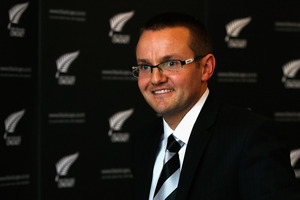 Doing a u-turn. Eating humble pie. Backtracking.
Call it what you like, and calling Mike Hesson.
Your mission, should you choose to accept it, Mike, involves returning Ross Taylor to the test captaincy for the three-test series here against England as New Zealand cricket tries to haul itself out of a catastrophe.
On the subject of national coach Hesson, has there ever been a bigger, single selection-type botch-up in New Zealand sport? His blading of Taylor as captain rocked the boat on the eve of the toughest tour in world cricket, and a sinking ship has been sent plummeting to the bottom by South Africa.
Bailing out on his team and the fans hardly puts Taylor in a good light, either. Taylor was a turkey for refusing to tour South Africa, a decision which doomed Brendon McCullum's mission - but let's call it Taylor's Mulligan and get on with what needs to be done.
Taylor is our only world-class test player, and that makes him the natural leader however unnatural he may appear in the job.
McCullum is hardly putting a foot right during the two-test series. There's been a lack of command on the field and his decision to bat first in the first test came unstuck like a jellyfish trying to cling to a rocket.
Taylor concedes he needs to work on some captaincy areas and he should get the chance. Unlike McCullum - with two pivotal first-innings test failures on this tour - Taylor's batting improved with the leadership to the point he almost single-handedly won the test against Sri Lanka while being unseated and insulted by Hesson.
More than anything, though, the sulking Taylor's unfortunate strike action has at least shown how much the leadership means to him.
Restoring Taylor to the top job will be just the fillip to bring out the best in our best player now that he has deigned to make his services available again, lucky old us. This isn't a moral issue but a practical one, of getting the best out of our meagre cricketing resources. It is also the strategy Hesson claims he tried to hatch in the Sri Lankan hotel meeting with Taylor, although many of us believe he wanted to sack Taylor from all three captaincy positions.
McCullum has had little to work with and a lot to work against in South Africa, but he's made a pig's ear of the job. His foray into test captaincy could not have gone any worse.
A crossroads for the sport has turned into a dangerous intersection. McCullum's team, our team, is an embarrassment that could doom New Zealand cricket, the test version.
This is crisis time. The thought of another travesty occurring against England can't be tolerated.
The Sir Lankan victory should have secured Taylor's captaincy for the time being. So let the the last few weeks go down as a horrible nightmare and hope against hope that there are enough nuggets of gold hidden somewhere in hills of failure.
Hesson and the irreplaceable Taylor have to learn to work together, and if that can't be achieved, then the coach is the man who should go.
If any players don't like the thought of Taylor returning as captain, they can bite the bullet knowing they aren't good enough for that opinion to count.
As for Taylor, he might exhibit new-found skills by expressing regret for quitting on his mates. In the heat of the moment, we can all get big decisions wrong. Unfortunately, Taylor's comments so far indicate that's Admission Improbable.
Gloating-free commentary
The cricket commentaries from South Africa, with our own Simon Doull supplementing locals such as Mike Haysman and Kepler Wessels, are excellent. The commentary has been down to earth and informative, raised interesting issues and been refreshingly free of gloating (the sort you get watching Australian sport and the All Blacks) considering how dominant South Africa is.
Nelsen vital to QPR
If Ryan Nelsen is trying to get to Toronto early for his new coaching post, he did a bad job of it for Queens Park Rangers against Tottenham Hotspur. The All Whites soccer legend was a key influence as a QPR side set up to harass and defend grabbed a vital point against Spurs, one of the best sides in the English Premier League. Manager Harry Redknapp will be reluctant to let Nelsen go as QPR continue a rearguard action to avoid relegation.