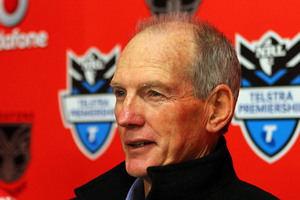 Defining a team and leaving a legacy are not easy to achieve - and the Warriors are a long way from either.
Great teams of the past, such as the Canberra Raiders, Brisbane Broncos and Melbourne Storm of the modern era; St George, South Sydney and Eastern Suburbs in the post-war years; were built on inspirational coaches who produced an ethic of hard work - on and off the field.
It's interesting that the first three teams have Wayne Bennett's influence; coach of Canberra in 1987 before taking charge of Brisbane in 1988, their inaugural year in the Winfield Cup. Then his protege, Craig Bellamy, coach of the Storm, was an assistant to Bennett at the Broncos before moving to Melbourne.
What these teams have in common also is their willingness and desire to work hard - not just on the field, but on the training paddock, in the gym, in video analysis and in everything they do.
The hard work seen on the field is just a reflection of what is done off it.
The Broncos in early years were a State of Origin team but still had to work hard to achieve results. The post-war teams had natural talent at a time when weights training, power and skill development were not part of the vocabulary.
Currently all teams have a benchmark and - not that they will admit it - the Melbourne Storm is the club all teams want to emulate. Everyone knows the Storm work ethic is streets ahead of everybody else and although the tone was originally set by Bellamy, it's the players who strive to live up to it.
The environment (culture) is what determines the programme; it's not the people, trainers, coach or even the CEO who police it. If a player does not work hard he'll feel uncomfortable and will either do the same or move on; the culture squeezes him out.
The teams in recent years that have used this as a blueprint are Manly and now the Bulldogs with Des Hasler leading the charge. I did not include the Broncos as this is everyday life for them.
What defines the Warriors? Is it their style of play? Is it the power and brawn of the Maori/Pacific Island players? Is it innovation in how the game is played?
How do you leave a legacy when the basis of what you are doing is not evident to those who watch you? Will the ethos of being a development club become apparent?
Their style is questionable as there is certainly not the steely determination to tough out games when it is close, not enough desire to hold on to a lead. There is always a down time during a game when the team fall asleep.
There are too many frailties for the team to be consistent at anything. How do you leave a legacy when you don't know how to define yourselves?