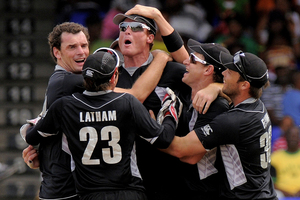 It's a lot easier nowadays to criticise the Black Caps. More people tend to nod in approval to what you say than staunchly defend our cricket team and, let's face it, the team tend to provide plenty of critical ammunition.
So, at the risk of being ridiculed, I'm going to blow their tyres up just a little.
I believe the Black Caps will not lose the test series. I'm not saying they will win the series because I'm never confident they have enough firepower to bowl a reasonable team out twice in conditions that don't suit medium pace seam bowling.
What I base this prediction on is a belief that they should score enough runs not to lose.
I know the batting was quite average during the limited overs part of the tour but the need to score fast runs is now over and I'm hoping that will lessen the threat of chief destroyer in the ODIs, Sunil Narine.
It's difficult and highly risky to score off bowling when you have no idea which way it is going to turn. However, it's a lot easier to formulate a successful defensive technique against such mystery. Question is: Will our players have the defensive wherewithal to formulate such plans?
Keeping Narine out will not guarantee big runs but the West Indies hold no terrors elsewhere and the rest of the attack will leak runs at a sufficient rate to keep our rather impatient top order mentality under control.
Now to bowling them out. If I was going to be more courageous and predict a New Zealand win, then I would say Daniel Vettori is the key. The wickets in the West Indies appear to be offering plenty of spin.
Vettori doesn't spin the ball much but he should get just enough. Combine that with his guile and the West Indian penchant for big shots and he will be more of a threat than he has in the recent past.
Neil Wagner must play. He has proven himself to be a wicket-taker. He's not express but he is aggressive. Vettori, Doug Bracewell and Chris Martin will keep things tight and he can just run in, in conditions that won't suit, and be aggressive.
I'd also love to see Tarun Nethula play. If the conditions are going to spin, then carrying a legspinner and not playing him is a sin in my book.
But how to find room for him?
Not five batsmen, five bowlers and a wicketkeeper vs six batsmen and four bowlers dilemma again, please!
But with Wagner and Nethula both likely to cough up runs in pursuit of wickets, then I'm afraid Daniel Vettori might have to bat at six again.