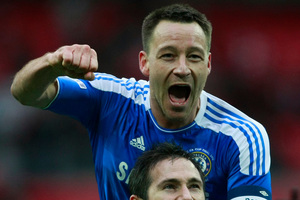 Who remembers Ian Porterfield? Anyone with half an interest in the FA Cup will know the identity of the player who scored Sunderland's most famous goal, volleying the only one of the 1973 Cup final, as second division Sunderland prevailed over the then-mighty - if largely unloved beyond their city boundaries - Leeds United in the first final televised live into New Zealand homes.
It was May 6 (NZT), since you were wondering. Sunderland, in their red and white stripes, repelled wave upon wave of white-shirted attacks, had a goalkeeper Jim Montgomery who made one of the alltime great double saves in the second half, and all over England the little man rejoiced as the heavy mob were held off to produce a celebrated example of the underdog ruling.
For years it became an early Sunday morning ritual; an early night, then dressing gown, slippers, sleep-crusted eyes, and a cup of hot chocolate, or a few bevvies and kick on through to the start, depending on your age or inclination.
So you wonder how many people were up for the start of Chelsea's deserved and entertaining 2-1 win over Liverpool at the "new" Wembley Stadium yesterday.
My Sky is a wonderful thing at times like this. Yes there are those who'll insist for ever and a day that nothing beats real time, and good luck to them.
But being able to record the game meant being able to fast forward through an hour of old highlights, talking heads and a young woman singing that funereal dirge Abide With Me.
Then again consider ESPN's match day activity. Their pre-game buildup lasted nine hours - segments inevitably including Breakfast at Wembley and FA Cup Final Brunch, and so on for a game which ended around dinner time so you imagine bulging waistlines in the commentary positions by kickoff time. On that yardstick, perhaps one hour is skimping it a touch.
For Chelsea, it was their fourth victory in four finals since Wembley was re-opened six years ago. It also put them level with Liverpool on seven Cup crowns. Just three teams - Manchester United (11), Arsenal (10) and Tottenham Hotspur (eight) have won the title more often.
To briefly labour a point, the days of the Sunderlands, the unfancied sides, lifting the cup are just about gone, more's the pity. Yesterday's showdown had a strong feel of just another clash between the big guys.
Since Wimbledon trumped Liverpool in 1988, there have been 24 finals. Chelsea, Arsenal, Manchester United and Liverpool account for 20 victories.
Fellow premier leaguers Everton, Manchester City and Spurs one each. The one wrinkle to the trend was Portsmouth in 2007-08 beating Cardiff City in a rare season where no heavyweights made it to the denouement.
The English love these pomp and ceremony occasions.
Right now so to Chelsea, and they were worth the win too, even if the only people who'd have cherished it were the fans of the west London heavyweights.
If not quite as widely unpopular as the ruthless, if gifted, Leeds in their heyday, they're an unloveable lot. Fine footballers, the likes of captain John Terry, Ashley Cole and Didier Drogba, have earned a string of black marks against themselves down the years for on and off-field behaviour.
That said, Liverpool's clever, if deeply unappealing Uruguayan striker Luis Suarez - a racist-delivering, diving chancer - might outrank the lot in terms of unlikeability, outside Anfield.
Still Chelsea were worth it, and the game even had that fast-rising favourite, the Controversial Goalline Incident, this time six minutes from the end when Chelsea goalkeeper Petr Cech made a stunning save and the linesman got his call on whether the ball crossed the line bang on.
Chelsea's billionaire owner Roman Abramovich swaps managers on a whim. He might think twice about replacing the unfancied interim manager Roberto di Matteo, though.
The low-key Italian, possessed of a cracking set of eyebrows, has won the FA Cup and got Chelsea to a most improbable Champions League final since being asked to fill in until season's end.
He deserves his chance. But, this being the world of the expendable manager, and this being Abramovich, that's not to say he'll get it.
WEEKEND WINNER
Lydia Ko, who shot 65 to break her own course record of 67 in winning the women's section of the Muriwai Open yesterday. Second placegetter Emily Perry was a mere 17 shots back.