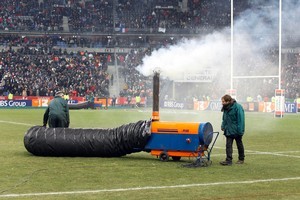 Rugby should be ashamed of itself for the absurdity of yesterday's Six Nations postponement of the France v Ireland game in frozen Paris.
This sport's increasingly lamentable attempts to portray itself as professional took another blow when the match at Stade de France was called off barely 10 minutes before kick-off. The situation of high farce was as amateurish as a kindergarten's Christmas play.
Two organisations stand indicted for a disgraceful state of affairs which cost rugby supporters from both France and Ireland a lot of money. Rugby's supposed governing body, the IRB, and in this particular case the Six Nations committee which tries to put on these games, ought to hang their heads in shame for allowing such a situation to occur.
Of course, it would be too much to expect those with snouts deepest in the feeding trough that is modern rugby, with its five-star hotels, business-class flights and limousine travel, to feel genuine remorse for such a shambles.
The fact ordinary supporters lost the whole point of their weekend, not to mention so much hard-earned money, wouldn't concern them - invariably, they're too busy filling their faces with the omnipresent hospitality.
The reason so ludicrous a proposition as playing an international match in the middle of February, the coldest month of the northern winter, at 9pm was even suggested was television. Here was conclusive evidence, if still needed, that the Great God of TV now runs this sport. The IRB long ago ceded control to the men with money.
Paris has been like a deep freeze all week, the River Seine frozen over. On Saturday night, just moments before the scheduled kick-off time, it was -9C.
Given the forecast for the weekend weather, there was no earthly reason why this match could not have been called off 24 hours earlier. Only the arrogance of the rugby authorities prevented such sense.
In the greatest abrogation of responsibility since Winston Churchill sold Poland down the river at the Yalta summit in early 1945, rugby's authorities allowed a referee, England's Dave Pearson, to take all the responsibility for a decision which ruined the plans of 80,000 people.
They had come from all over Ireland, the Republic and the north. French supporters had travelled from Toulon in the far southeast and Perpignan on the Mediterranean.
You can be sure, given the astronomical prices at Paris hotels on Six Nations rugby weekends, that they'd all shelled out small fortunes to be there. All of them genuine rugby supporters, deserving a whole lot better than what greeted them at the freezing Stade de France.
Supporters in the ground were told the game was cancelled long after TV viewers knew. And of course, there wasn't the merest hint from the TV pundits, experts or commentators the game could and should have been staged at 2pm that afternoon when temperatures were a bit higher.
That would probably have made all the difference, but it wasn't considered for one reason - television was covering the Italy v England game in Rome, which was scheduled for 4pm UK time. Television wouldn't want two games overlapping and it wouldn't want to lose its favoured Saturday night slot. So 80,000 schmucks could go hang.
It's sad and tragic that a once-great sport, hitherto populated by some men of judgment and quality, now cravenly bows to its TV paymaster.
Why is it New Zealand can't play a major test match now with a 3pm kick-off? Families would hugely benefit and conditions far more conducive to producing skills than one which begins at 7.30 on a cold, damp winter's night.
Alas, it's the same in Europe. What happens in this game is done for the benefit of television, not the sport. We should be deeply concerned about it. Those who've allowed such a situation to come about deserve only our scorn.