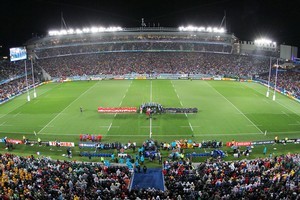 The Rugby World Cup is ours, and so too, unfortunately, is an outdated and expensively redesigned Eden Park.
The tournament was a brilliant success in most respects, but Auckland has been left holding a costly white elephant with no quality alternatives available.
One of the tournament legacies, unhappily, is a monstrous and poorly designed stadium that is holding back sport in Auckland, although Eden Park might still be suitable for the biggest rugby tests and one-day cricket.
Despite the cup's warm fuzzies and substantial bill, Auckland still needs to address this problem, and quickly.
I would suggest the Super City appoints a Stadium Tsar, a powerful, dedicated and charismatic figure charged with discovering all the pitfalls and possibilities, putting forward a plan and overseeing the implementation. Piecemeal methods have been disastrous - each new stadium or renovation has dug Auckland into a bigger hole.
A comprehensive approach is long overdue.
The stadium outlook is so bad that Auckland is being left behind and the major codes are severely limited because the ultimate live experience no longer exists here. The poor atmosphere at Eden Park affects the quality of matches and the television viewing experience. Auckland needs its sporting buzz back.
Eden Park is too big and unwieldy. It is not shaped properly for football (nor cricket for that matter). The spectators are too far removed - the atmosphere is dire when the ground is not full or near full. Eden Park is hopeless for other sports, such as league and soccer.
The desperate need still exists for a moderate sized "boutique" football-specific stadium which would serve the day-to-day requirements of rugby, league and soccer. Build one, and watch sport take off.
The cup legacies should include Auckland having renewed confidence and rediscovering a can-do attitude, along with people who have the skills and drive to get difficult jobs done.
Someone like Martin Snedden, who did an outstanding job of running the World Cup tournament, would be perfect as a Stadium Tsar, although he may have bigger fish to fry. Snedden deserves to be a man in demand, and not only in this country.
Auckland must find out what the overall needs of our major sports are, along with the financial implications and possibilities regarding the future of other stadiums, such as the Warriors' home at Mt Smart. Included in any review would be Western Springs, the home of speedway, which could be turned into a brilliant football venue.
Cricket is also in limbo, with the national body quitting the main Eden Park arena as a test venue and the ground's trust board reluctant to bring the outer oval up to ICC standards. So the review should also consider specific cricket solutions.
Deals could be done: for instance, can Mt Smart Stadium be sold to help finance a new stadium? These are the sorts of questions that a Stadium Tsar - with a suitable budget, small staff and the power to co-opt - would sort out.
The superb Auckland waterfront stadium idea, rejected for the World Cup, needs to be put back on the agenda. That Dunedin could build an excellent covered arena for considerably less money than the Eden Park upgrade should stir Auckland pride and hope.
Suncorp Stadium remains the jewel in the Southern Hemisphere sports crown, the standard to which Auckland can aspire. The Australian captain James Horwill told me during the World Cup that the greatest buzz he ever experienced was leading the Reds out against the Crusaders in the Super 15 final, such is the atmosphere generated at Suncorp.
It beat anything he had experienced as a Wallaby in stadiums around the world. And we have all seen the amazing atmospheres at State of Origin matches in Brisbane.
So why can't we have that in Auckland? Time to throw good money in a good direction, despite bad decisions in the past.
* From an Auckland and national perspective, Sonny Bill Williams' move to the Chiefs is a golden opportunity lost for rugby. SBW was just the manto help reignite rugby interest in this city.
Under Dave Rennie and Wayne Smith, SBW will get a superior rugby education in Hamilton, and in a more stable environment than exists at the wild and wacky Blues. But he is almost certain to head overseas in 2013, which means there is no major payoff for the All Blacks should his game reach genuine test level.
The NZRU should have used the game's most amazing publicity machine to generate interest in rugby's biggest market, a market that has been flagging.