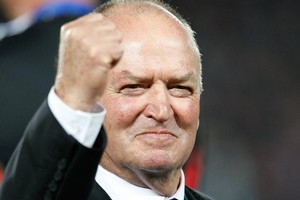 Graham Henry once said that the simple act of dropping a fishing line over the side of a boat was the only thing that enabled him to forget about rugby.
As he switches into hunter-gatherer mode on the Hauraki Gulf, he might find it harder than usual to switch off. As a rugby coach he is sated, but as a professional he wants more.
Not for him the simple life - he wants a job, he's just not sure what.
There has been talk of a coach-type role at the NZRU; of a consultancy at his beloved Blues; of a role at the RFU, England's governing body.
All would have some appeal, for sure, but all come with caveats.
If Henry were to take an overlord role at the New Zealand Rugby Union, his would be the dark shadow that loomed over the early stage of Steve Hansen's tenure, no matter how benevolent his presence or how removed he was from the day-to-day running of the All Blacks.
If Hansen's reign gets off to a shaky start, which is always possible when new philosophies and players are introduced, you can almost hear the clamour now for Henry to become more involved.
The same goes for the Blues. Pat Lam would be in the worst kind of no-win situation.
If the Blues win, it will all be down to Henry's expertise, if they lose he best start mailing out his resume to Europe and beyond.
As for the RFU, quite why you'd want to walk into a viper's nest is anybody guess, but perhaps Henry truly believes in his redeemer qualities. Even if it's shockingly naive in these hire-'em-and-fire-'em days, there's something a bit dispiriting about Henry using his considerable acumen to bolster the enemy.
Henry has used the word legacy a lot during the past eight years. Does assisting a rugby superpower to reach its potential, by definition making life harder for the All Blacks, taint the legacy a little?
That's a question he might ponder as he reels in another snapper.
He's not the only World Cup hero with a little pondering to do.
Hansen would not be so silly as to admit it, but he knows that he will become the next All Blacks head coach - and fair enough, too.
Now he has to gather a team that is going to challenge and stimulate him.
It seems likely one of those men will be former Chiefs coach Ian Foster, who has turned down a number of overseas roles in the hope that the All Blacks would win the World Cup and that Hansen, a long-time confidant, would be anointed.
Skills coach Mick Byrne has also been mentioned in dispatches and his kicking expertise is highly regarded.
But it would be a bold and potentially invigorating move if Hansen tried also to bring someone in from outside the New Zealand scene.
If 2007-11 proved anything it was that continuity has its benefits, but so too does fresh perspective - something that maybe a John Kirwan or a Vern Cotter (once freed of his Clermont obligations) would be able to bring.
Another who might want to do a bit of thinking, any sort of thinking really, is Sonny Bill Williams. If yesterday's tweet - "off to de panama today its been awhile since ive been this excited to travel!!" - is to be read literally, he'll be doing that thinking in Central America.
One assumes that means he's chosen between the Blues, Chiefs and ignominy.
If he's chosen the latter it's tempting to say good riddance to him and his loosely termed "advisers", but that would be churlish.
Williams is a special athlete and while his perceived it's-all-about-me attitude might have alienated some, his popularity among kids in particular remains undiminished.
He might not be a huge loss to the All Blacks, who are not short of quality midfielders, but he would be a big loss to the sport.
But then again, he probably already knows that.