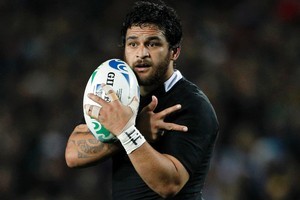 Next thing we know Piri Weepu will be driving the All Black bus to the semifinal.
The halfback probably has his HT licence and even if that detail has passed him by, he'd be able to navigate the Auckland streets with a motorcycle police escort.
Talk about multi-tasking, the founding member of the extra-donut club has been in recent overdrive. It would not surprise if he was asked to step in as captain or pose for an underwear advertisement this week.
There was Wee Willie Weepu tucked up in his Takapuna hotel cot when he got an SOS call and headed out in his black pjays and woolly nightcap to rescue Cory Jane and Israel Dagg from their inebriated night in a local bar.
Job done, Weepu sidled out to the World Cup quarter-final against Argentina to continue his many-pronged duties.
He led the haka, was lead goalkicker, took over the dropouts, restarts and touch kicks when Colin Slade was crocked, organised the backline and brewed the tea at halftime. Now what?
Does he fill in at first five-eighths for the semifinal against the Wallabies now that Slade has gone the way of Daniel Carter?
The selectors have seen Weepu as a backup five-eighths even though he has never started an All Black test in that role. He showed his versatility against Canada in pool play when he moved into five-eighths for the last 30 minutes of that test in Wellington.
So with Carter and Slade in the rehab unit and Weepu chugging on strongly, is he the next starting pivot?
On the evidence of the All Black selectors' history, the answer has to be in the negative.
Weepu got some serious endorsement from coach Graham Henry yesterday.
"He's got some form at nine hasn't he?" the coach said.
Weepu navigated the All Blacks best from halfback and that was his best position. He saw the game better from that role.
Unless there is some other calamity this week, Weepu will keep his multi-tasking responsibilities against the Wallabies with Aaron Cruden holding down the five-eighths duties.
The young pivot will have fellow Hurricanes Weepu, Ma'a Nonu, Conrad Smith and Cory Jane to keep him company in the backs and that familiarity should be comforting for him in his eighth international.
Weepu will probably be Cruden's roomie as well, offering some soothing bedtime tales and other sage advice on how to handle the Convicts.