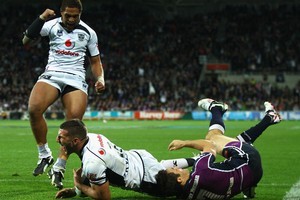 The All Blacks could finally win a professional-era Rugby World Cup at Eden Park but rugby won't beat league in Auckland any more.
The day has finally arrived when the 13-a-side code will not only share the limelight with union, but overshadow the national obsession.
After 16 rollercoaster years, the Grand Final Warriors are close to delivering on their huge potential. Shaun Johnson and Kevin Locke will fill billboards and become household names, the way the imports did in season dot. Glen Fisiiahi, Sam "Super Size" Lousi plus ex-rugby players Konrad Hurrell and Omar Slaimankhel await.
More will come. This time, the buzz will last. Rugby's blazer brigade haven't got a clue what they are in for as action-packed league takes hold.
The All Blacks have a special and exalted place in New Zealand life, but below them rugby is struggling for public appeal.
The World Cup is a facade. Rugby is in trouble, especially in Auckland.
The World Cup has given rugby a shot in the arm, but rugby shot itself in the foot with the poorly designed and oversized Eden Park, a monument to foolishness. Rugby visitors to Auckland may struggle to understand this, but the locals who usually stay away don't. And Auckland rugby can't even produce its own stars any more.
In contrast, while the Warriors' home at Mt Smart Stadium is also outdated and unfortunately parked in a used-muffler haven, it is perfectly sized for most NRL games and young stars are emerging from within the club.
Departing coach Ivan Cleary deserves special mention and praise, along with others such as John Hart and John Ackland, for creating a superb foundation on which this rocket will be launched. With all due respect, though, Cleary's work should not be overstated. The Warriors finished a disappointing sixth and were smashed in their opening playoff game. A more legitimate finals system would have ended their campaign there.
I feel particularly sorry for Melbourne. They topped the premiership, 10 points ahead of the Warriors, and won their opening finals match which should have put them in the Grand Final. But the long finals series may actually work against the best teams who are drained by peaks already achieved and exhausted representative players.
Melbourne were asked to go to the well yet again and looked knackered. Their dominant dummy half Cameron Smith could hardly raise a decent run. They were beaten by the Warriors and the system on this occasion, but the Warriors will do the job on their own in future.
Our financially ailing rugby, which is controlled by fiddling Wellington-based bureaucrats, isn't set up to resist the Warriors' rise in Auckland and this World Cup is no panacea.
The public have lapped the tournament up, which is great. It has been a festival of humanity in a way so far, and the rugby tension will rise from the quarter-finals on. But with no apologies to the World Cup apologists, a lot of this tournament has been ridiculously lopsided and about as entertaining as mowing the lawns. My warm fuzzies haven't survived watching Scotland plodding about, or witnessing Wales three million, Namibia nil. The tournament is loaded against smaller countries, including New Zealand, who host a final that will end in the vicinity of midnight.
Whatever the outcome, today's kids will delight if they wish in the World Cup then skateboard off to play league, soccer, basketball, golf, computer games and whatever else takes their fancy. Street parades don't last forever - just look at the America's Cup.
The open-field running, offloading and one-on-one hits of league suit the physical and psychological makeup of the brilliant young Maori and Pacific Island prospects in New Zealand. The game thrives on television coverage, and has a knack of producing close-contest thrillers and off-field drama.
To those who disagree, tell us - please - why just 14,000 people turned up to watch the Blues and Waratahs in a Super 15 playoff match and compare that to the rising hysteria about the Warriors' Grand Final appearance.
The Warriors have one clear advantage - unlike Auckland rugby, they are not pawns in a game played by their masters. The club wields its own chequebook, with an impending increase in gate takings and the salary cap to play with. And play they will.