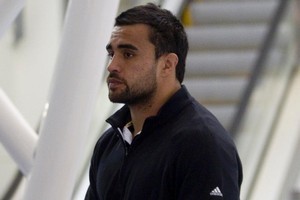 It was all rather different back in 1987.
By contrast with yesterday's mechanical announcement in a Brisbane hotel, raw emotion was on show for anyone who cared to see it on May 9, 24 years ago.
The naming of that inaugural World Cup squad followed a final Probables-Possibles trial in Whangarei.
It happened a few hours after the game at a formal dinner. The announcement of the 26 players for that tournament was screened live to the nation.
For the players whose names were read out, it was a joyous occasion. For those who missed out it was an altogether different experience.
Of the Probables, who won the game 41-10 on that long-ago sunny afternoon, 14 made the cup squad although Andy Dalton, originally named captain, didn't play a game because of injury.
The odd man out was Wairarapa Bush lock Brent Anderson.
The whisper was out that he'd been told to make sure he won his lineout ball and he'd be in.
Instead, he was outplayed by his athletic namesake, the Canterbury farmer Alby Anderson.
As the New Zealand Rugby Union president Russ Thomas read out the 26 names, the reactions were easy to read.
In Brent Anderson's case, it was a galling experience.
There was an Anderson named, but not him.
He had been sitting at a table of four players. The other three heard their names read out.
Then the chosen 26 eased away to mingle among themselves, slap each other's backs and enjoy a Fanta or two long into the night.
Anderson was left sitting on his own at a table, head in hands for what must have seemed an eternity. For a time, there was nowhere to hide.
It was uncomfortable viewing from the back of the room that night. He, and others who'd fancied their chances, were inconsolable.
That memory remains vivid and now, for players like Liam Messam, Sitiveni Sivivatu and Hosea Gear, who could all put up solid cases for inclusion, it will be time to examine the events of the past couple of days.
What did they do wrong? Could they have done any more? All sorts of thoughts will be burning through their minds. But at least they're doing it out of the public gaze. They can put their heads in their hands in the privacy of their homes.
No wonder that 1987 exercise has never been repeated on that scale.
"Our thoughts are with them," Graham Henry said of that overlooked group yesterday. "We hope they're handling this as well as they can."
Indeed.
If the 1987 exercise was repeated now, you'd have a director urging the camera crew "find me some tears".
So be thankful for small mercies.
There are always winners and others in these situations. Sometimes it's better to leave the rejected to find a quiet space of their own.