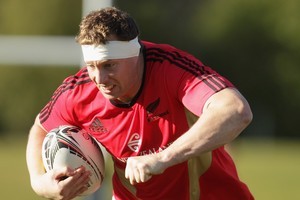 All Blacks coach Graham Henry obsessed about sending thoughts to the blokes who missed out on World Cup selection when the squad was announced in Brisbane. So in a twist on that, these are the blokes I thought were needed for such a daunting, historic, nation-saving mission.
Carl Hayman (for John Afoa)
They're mad going into a World Cup without Hayman. Bugger the overseas rule, which the NZRU ignores anyway. Did they actually watch that test in Port Elizabeth? The All Black scrum went back quicker than Luke McAlister to Europe. Ben Franks covers the utility role, leaving the way clear to whistle up tighthead Hayman to back up mighty Owen Franks. If Owen the Ogre stays fit, they'll get away with this. If he doesn't, trouble beckons.
Wyatt Crockett (for Tony Woodcock)
Woodcock is the real deal. Absolutely. He was a great All Black prop. But he's a great All Black crock at the moment.
Woodcock has become a plodder around the field whereas Crockett is an absolute dynamo. If Woodcock was still the best bet then all fine and dandy, but Crockett has been in terrific form. Admittedly, he has the odd scrum problem, but who doesn't. Scrum penalties are a lottery anyway. Woodcock was far from being a scrum powerhouse in his long-awaited comeback against the 'Boks and in case you've missed the publicity ... there's only 16 days to go. I've sent a lot of my thoughts to Wyatt Crockett - he fronted up for the challenge this season, big time. The bottom line here is Woodcock's fitness and form is a long way off being a sure bet, and there isn't a long way to go.
Hika Elliot (for Corey Flynn)
Flynn is so delicate he might snap something ringing room service so Elliot will probably figure anyway. However, I suspect that Elliot's personality doesn't gel with the three old men. Maybe he plays his iPod too loud. Elliot is a strong lineout thrower which is never something Flynn could be accused of. The Hawkes Bay hurricane is a revelation around the field and if he is a fringer, he's just more obvious and better at it than Flynn. In terms of beefing up his tight work, Elliot was worth pursuing as a special project more than some other special projects we could mention. Elliot is a potential world beater.
Jarrad Hoeata (for Anthony Boric)
Thought the lesson was learned about playing an injured lock at the last World Cup. Boric has been out of action for so long he'll need cue cards for the lineout calls. Hoeata hits hard, and would bring terrific energy to the set-up. He also has utility value covering lock and loose forward ... and (drum roll) is MATCH FIT. Name a game this year in which Boric shouted out "look at me, I'm a World Cup lock". No? That's because he's been injured for most of the year. On the positive side, loosie Victor Vito is a potential star, but his 11th-hour call-up suggests uncertainty in the selection ranks.
Nick Evans (for Colin Slade)
See above about Hayman re the stupid overseas rule. Who in their right mind would pick Slade after what happened on Sunday morning? He was horrible, no matter what Graham Henry reckons. Before the match, Henry said Slade might have to run a World Cup final, so that's the yardstick for his selection. And he failed. Slade was chucked in the deep end for the Port Elizabeth test and should have been chucked out at the last second yesterday. World Cup desperation demanded Evans be recalled as Dan Carter's back-up.
Hosea Gear (for Isaia Toeava)
Gear established himself as the number one wing last year and things should have stayed that way. If it's all good and dandy to pick injured and/or tired forwards like Boric and Woodcock, then firing up Gear ranks as a doddle. Toeava doesn't inspire confidence. He had a chance to go for the line on Sunday morning and kinda fell over. As for Toeava's versatility, there are enough utilities in the squad to open a Te Atatu car yard.
Sitiveni Sivivatu (for Zac Guildford or Cory Jane)
Come on troops. Sivivatu is a freak, a genius. Yes, it's hard to tell if Siti is awake at times. But he can do things in his sleep that Guildford and Jane could only dream of. Sivivatu saves his best for tests, and his best is as good as being a wing gets. Leaving both Gear and Sivivatu out is the real surprise however. This is the land of big scary wingers yet the All Blacks are going to the World Cup without one as an option.