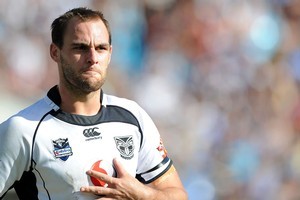 They may have lost, but the Warriors will have taken valuable lessons out of last week's thriller in Brisbane.
They will have learned that winning play-off intensity games isn't all about the exceptional plays, it's about staying in the contest for the full 80 minutes and putting in those one-per centers - the little extra efforts that make all the difference.
They hadn't been tested for a while, but the Warriors will now know exactly where they stand. The self-belief of the team's younger players will also have grown.
It's clear they need to tidy up their field goal plays late in games, but there are plenty of reasons to believe they can be a force in the finals.
I'm convinced the Warriors have the best forward rotation in the NRL. The props have been in dominant form and are laying a great platform for the rest of the team. And the work of Simon Mannering and Micheal Luck has been simply outstanding.
Mannering in particular does so much work that often goes unseen. The power he puts into his tackles is remarkable - he is just chopping people down.
His workrate frees others in the team to shine and the likes of James Maloney, Kevin Locke and Shaun Johnson have been doing just that.
The unpredictability those players create is another powerful weapon. Teams now know the Warriors can burn them from anywhere.
Tomorrow's match against the Knights is vital for both teams. The Warriors have had the wood on the Knights in recent times, but the Knights come into the match after two huge wins, so they'll be confident.
The Knights will also believe they can hurt the Warriors where they are most vulnerable - their left edge defence.
Jarrod Mullen is the best unnatural or left-to-right passer in the competition, and with Mad Dog MacDougall and Akuila Uate on the right edge, the Knights will be confident of exposing the likes of Johnson and Vatuvei's defence.
But the Warriors' strong attacking side is their left, so they'll be just as confident they can expose Mullen and the Knights' right side.
The Knights are also one of the worst teams at defusing kicks, while the Warriors are among the best at scoring off them with 21 tries this season, so expect Maloney and Johnson to pepper the stocky Knights wings.