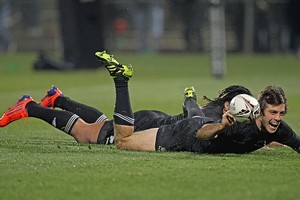 For the All Black coaches, it was the breakdown. For many others, it would have been the unwelcome appearance of white and orange boots that was the most concerning aspect of the performance against Fiji.
Despite the infiltration of garishly coloured boots into Super Rugby over the last decade, the All Blacks have preserved the tradition of their players wearing black and only black on their feet.
That was until now and the greatest surprise in Dunedin was the shiny, entirely distracting array of coloured feet. Black jerseys, black shorts, black socks and then wham ... a handful of players were wearing white boots or, in the case of Ma'a Nonu, luminous orange. Even Dan Carter came off the bench resplendent in white boots.
Surely it is not just the traditionalists who were bothered by this? This is a nation and a team that have been highly protective of the black jersey. More than 100 years since it was first worn and, really, the All Black jersey looks largely the same as it always did.
Yes, it is made of fancy lightweight fabric and is body hugging - but it's black with a silver fern, just as it has always been.
It seems strange to have gone to such lengths to protect the kit and then allow everything to be ruined by saying to players that they can wear ridiculous colours on their feet. Why do the players feel the need to wear anything other than black boots when they play for the All Blacks? It is not the time or the place to be individualist or showy. The culture has always been unified, dignified and understated. Expression is encouraged but not in what the players wear.
They can rip open a defence with a clever move or sidestep or banana kick if they need to show the world something different - not wear silly boots and leave everyone feeling a little uneasy.
The sad thing is that we all like to think of the All Blacks as one of the few institutions that holds a keen sense of tradition; while they have modern aspects and are continually evolving, certain core values remain as strong and valued now as they did when the national team first played.
White boots don't fit that image. Luminous orange boots definitely don't fit that image. But what is most concerning is what else might be eroded?
Will we soon see All Blacks scoring tries and then celebrating with highly choreographed dance routines? Will we see them pull their jerseys over their heads and run off like aeroplanes and then jump into the crowd?
Will we have mass pile ups - heaps of players lying atop each other screaming senselessly?
Generation Y already have a defined culture of entitlement. They have no doubt that all they do is right. The All Blacks can't be hijacked by this culture - the coloured boots have to go and a firm handshake, maybe a smile and a slap on the back, is all we need to see when they score a try.