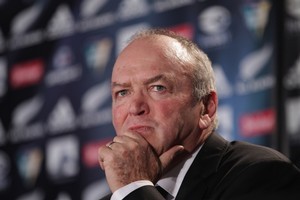 This much is true of the All Blacks squad in 2011: the coaches are not interested in "projects" in a World Cup year.
Graham Henry has chosen to go down a safe route in his 30-man squad and few would blame him in such a high-stakes year.
The coach and his cohorts Steve Hansen and Wayne Smith are in the envious position of being able to pick a very good side and a very safe one all at once.
Even the squad's one uncapped player is a relatively sound bet.
There's no rush to burnish the rough edges off Jarrad Hoeata because his selection is down to the fact that his game is one giant rough edge - he's Brad Thorn when Thorn is not there.
If it doesn't work out, if Hoeata is just a little too unrefined for international footy, they have options. His Highlander teammate Tom Donnelly has rarely if ever let the All Blacks down and there has been no word to say that Anthony Boric - rated until his foot injury in the top four locks in the country - is definitely out of the World Cup.
On the surface, it might look as if they have played a wild card in selecting Colin Slade as Daniel Carter's back-up. Picking a player after so little rugby - Slade endured two broken jaws in his fractured first season at the Highlanders - is on the one hand a punt, but on the other it is the conservative option.
Aaron Cruden plays the game closer to the edge. He is a creator, running the ball to the line with both hands in a high-risk, high-reward style. As yet he is not a great game manager and his kicking from hand can be inaccurate under duress.
Slade does not do bravery, but he plays a style that is easier to coach and his boot is a better bail-out option than Cruden's.
Young tyros like centre Robbie Fruean and flankers Matt Todd and Luke Braid have suffered from bad timing. Giant centre Fruean appeals as somebody who could be near unstoppable against some of the World Cup lesser lights, but less reliable against the heavyweights. This is not a year for rolling the dice, so Richard Kahui, who's been there and done that and can play on the wing, is preferred.
Rather than pick a novice at flanker, they have chosen instead to make use of the versatility and experience of Liam Messam and Adam Thomson.
Crusaders' coach Todd Blackadder has preferred Wyatt Crockett in the big games this year, but that has been unable to convince the national panel that he's a foolproof scrummager yet.
Even somebody like Hika Elliot, who appeals as a more athletic and dynamic player around the park than Corey Flynn and Andrew Hore, was passed over for those with more proven road miles (though Flynn must have come perilously close to throwing himself out of contention during Saturday's Super 15 final).
Still, you know you're picking a team from a position of strength when the only small complaint you can muster is that it's lacking a bolter or that it's a little predictable.