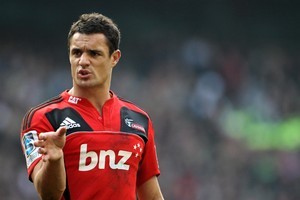 A message to those nasty aliens from outer space - take us to your leader immediately so we can demand the return of the real Dan Carter.
There's a big tournament this year and while the Carter clone you left down here almost had us fooled, the game is up and we need the real one back pronto. The Crusaders could also do with him this week, when they take on the Stormers - and the travel factor - at Newlands.
As a nation, we've got enough invaders to worry about this year - like monsters from South Africa and killjoy French blokes - without you guys snatching important bodies. If you don't give Carter back, Sonny Bill Williams will fly up there and teach you a lesson you'll never forget, or at least win a split points decision.
That Carter imposter has had a couple of very ordinary games. The real one doesn't miss goalkicks, have kicks charged down, knock the ball on and fail to take control of matches. The real Carter also runs with the ball now and then.
Beam him back down, you rascals, and while you're at it, please return all those spectators you sucked into your spaceship from Eden Park.
That is a world-class sports stadium, troops, not a playpen for extraterrestrial tricksters. We paid good money for that place - it's not a theme park. Give our people back!
You would never have got away with this nonsense in Ron Don's day. Our Rugby Mafia Don ran Auckland rugby with an iron fist. Car passes were essential then and a little army of tough pensioners enforced the regulations. A spaceship without a car pass would have been sent packing.
To digress while remaining on this subject, what's wrong with the world today?
The Weekend Herald revealed that the squadrons of outsourced ushers working for the firm that patrols Eden Park are complaining because they are unpaid, undertrained, overworked and "underprepared for the Rugby World Cup". The story didn't mention this, but it can only be assumed that the company has also failed to select a wider training group.
This dispute raises one obvious question: how many staff do you actually need to point 23 people to their seats. There is a deeper issue here as well, to do with community values, because it used to be an honour to man these stations, whatever the work conditions.
In the good old days, three senior citizens in white coats controlled crowds of more than 50,000 and did so for nothing apart from the standard allowance of a lukewarm cup of tea and a pie which was a few degrees cooler.
Okay, so the perks were tremendous. Being able to stop people in their tracks, point them the wrong way and force bewildered families to park in Mt Albert represented rewards beyond anything available in a pay packet. But still, the honour of serving one's rugby union was never tainted by the tawdry subject of money.
The white coats didn't need training either. They learned on the job and mistakes weren't only tolerated, but celebrated. They were the sort of characters who would happily order the Michael Jones statue to move on if it didn't have a permit. Every member was in the leadership group, and they never lost their mojo so never had to get it back.
If today's security people need mentoring-slash-training, there might be an old white coat hanging around willing to be pressed into service.
But here's a better idea straight out of Aussie league's heritage-round concept - turn out the lights on the high-vis jacket age and bring back the old fellas in white coats. It could be a World Cup treat.
TRUE BLUE
A mighty congratulations (with major reservations) to the Blues, for making it into the last four of the Super 15. Just how they got this far is a mystery considering their often less-than-wonderful form. You can probably sum the reason up in two words: Isaia Toeava. Pat Lam's mob are still in the hunt and you can't knock them for that although they are unlikely to beat the Reds in Brisbane.
Their motto, as reported, is to be the best Blues team ever. This is a noble aim and displays the right attitude, but they will fall short. The current lineup will never match the team of 1996/97. You can guarantee that.
ATTITUDE TO DIE FOR
Kieran Read was, as usual, among the stars for the Crusaders against the Sharks. The rawboned No 8 is not the most elegant or gifted loose forward, but he has an attitude to die for. His intercept try sealed the Sharks' fate.
Read has that genuine, everyman persona that wins over teammates and fans alike. He is the All Black captain in waiting.
Jerome Kaino is smashing all and sundry for the Blues. Loosies Read and Kaino will be at the heart of the All Blacks' World Cup campaign and if Richie McCaw can shake off the injury blues, this is one area the All Blacks should have no worries about.