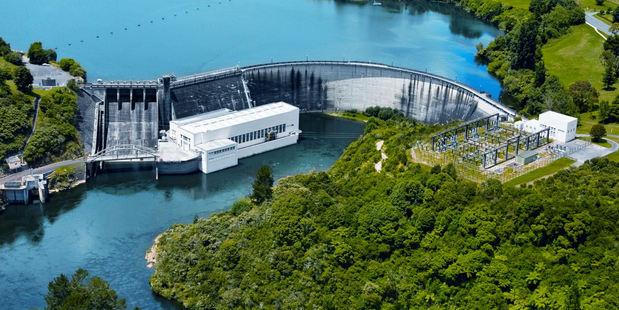 The State Owned Enterprises are clearly still the battlefield at the moment for parliamentary politics - especially the almost-bankrupt Solid Energy, and the almost partially-privatised Mighty River Power. So which parties are winning? Who's scoring the points, and how are the battles setting up the parties for election year? And what about the public - how well is it being served by current SOE debates?
Every opposition politician should read Lew Stoddart's blogpost, The left's lose-lose SOE strategy. He strongly argues that the 'left has lost the argument about asset sales' and that the Opposition parties - especially Labour and the Greens - are causing more damage to themselves by continuing - 'time to move on'. Despite the unpopularity of the asset sales, Stoddart says that they'll 'go ahead and will probably be a net vote winner for the government'. This is reinforced from the political right by Matthew Hooton, who laments the poor arguments and logic being put forward by Labour - see: Labour flogs dead asset-sale horse.
National, by contrast, is now getting a lot of favourable coverage on the issue - for example, the Herald says the whole episode shows that Power sale proves the unpopular can prevail. The newspaper says, 'Key deserves credit for pursuing an unpopular policy in the face of sustained opposition. Having risked political capital on this one and lost none, he might be encouraged to do more'.
Of course, the last time that National privatised an energy company - Contact Energy in 1999 - it was thrown out of government in the same year. Such risks for National are well examined in Adam Bennett's Investors in for the long haul?, in which it is pointed out that the current SOE minister, Tony Ryall, was also the minister during the Contact Energy float. Ryall claims to have learnt the lessons from this unpopular privatisation, and various business voices argue why the Government's Mixed-Ownership-Model will work better than the privatisations of the past. Brian Gaynor predicts a very politically successful float: 'I think the amount of shareholders will actually exceed the amount of people who sign the petition opposing it'.
National still faces some potential stumbling blocks in the MRP float - especially on deciding the price of the share issues. Financial adviser Martin Hawes puts this clearly: 'the Government will not want to sell it too cheaply (the public would be up in arms about flogging off stuff cheaply) but nor will it want to sell it too dear (it will want to see this share sale successful: plenty of demand and a bit in it for buyers). In finding that balance, the Government will have some very delicate pricing to do - a very thin line that it will have to walk' - see: Caution needed on Mighty River Power.
Plenty of advice is being offered to potential MRP investors. Martin Hawes says that the MRP is not 'bullet-proof', and that Solid Energy should be a reminder that 'businesses are run by people and people make mistakes'. He reckons that people with mortgages are better off putting their money into those repayments - see: Caution needed on Mighty River Power.
Could MRP fail like Solid Energy? Unlikely, but it's still worth pointing to John Key's visit in the weekend to MRP's Chilean investment, where the SOE has just written off $89m - see Brook Sabin's Key struggles to push Chilean investments and Claire Trevett's Mighty River admits risk. The Standard also has a blog post arguing that purchases will be vulnerable to increased regulation of the electricity market in the future - see: You pays your money & you takes your chances. And other detailed investment advice is offered in Jason Krupp's Taking the plunge in Mighty River, Terry Hall's Will anyone make a killing on Mighty River?, and Liam Dann's Much to weigh up on Mighty River. But, Bernard Hickey thinks 'There's a whiff of greed and intoxication in the air' - see: Wise warning from the past.
If National is now winning on the general issue of asset sales, Labour has the upper-hand on the debate about accountability of SOE bosses. In last week's SOE select committee hearings, Clayton Cosgrove gave it his best shot, and made a few SOE bosses squirm in their seats according to Pattrick Smellie's In the Court of Clayton: a rare day of select committee drama. Labour even had Jenny Shipley's voice 'quavering' during the Genesis Power hearings.
National is in a very dangerous position on this issue argues John Armstrong in his excellent column, Mighty River's trickle of answers insulting. He berates the management of MRP for its behaviour at last week's select committee hearing and ridicules its excuses for not answering questions. He says Labour's pursuit of Don Elder and Solid Energy is a political winner for the party - it has the possibility of embarrassing National on many different levels. The whole episode goes to highlight the farce of select committee hearings where the reality is 'that Cabinet ministers call the shots as to what happens', and that it's a pretence that SOEs are accountable to Parliament.
Chris Trotter argues that the SOE corporate leaders still have New Zealanders over a barrel. They treat Parliament and the public with contempt and arrogance, and they can simply get away with it. Why? Because, says Trotter, 'The tiny elite of obscenely remunerated business executives that run our economy have been presented with nothing even remotely resembling a threat to their ideological certainty'. Despite increasing public despair with golden handshakes and huge CEO salaries, there's no real challenge to their existence and MPs 'can criticise and question SOE board (bored?) chairs and chief executives all day, but until they present alternatives which pose an existential threat to the ideological hegemony of neoliberal capitalism why should corporate New Zealand respond?' - see Two Fingered Salutes.
For a detailed look at the ex-Solid Energy CEO's career see Lloyd Burr's Who is Don Elder?. Elder's current $675 an hour 'gardening leave' doesn't impress former freezing works gardener Simon Cunliffe - see: The might and power of those in control.
Other recent important or interesting items include the following:
* The best single account of the last few days of Key's South American trip can be found in Claire Trevett's PM's Chilean guard of honour - cows. Not only did Key learn how to milk a cow, but gave a notable response to his Minister of Primary Industries, Nathan Guy, clutching an electric fence: 'I just want to apologise to the New Zealand public.... This is all I've got to work with'.
* The Opposition and political commentators are always on the outlook for signs that the Government is finally coming unstuck. Tracy Watkins has found a 'political weather vane' that is pointing to possible political death: Peter Dunne, who last week made some severe criticisms of his own Government. Watkins also points to a 'bunker mentality' arising in ministers' offices, with spin doctors becoming more dominant and aggressive - see: Acting fast and loose not a Dunne deal.
* Environment Minister Amy Adams is taken to task by Rod Oram over a discussion paper on the Government's plans to reform the RMA: 'The paper, though, is very long on public opinions gathered through surveys; and it is irresponsibly short on facts captured by analysis.' Oram responds with some actual data as to how minimal the real impact of the RMA is on development - see: A naked power grab.
* Dunedin Labour MP David Clark will have to watch out for the curse of being labelled a 'future leader' in light of all the profiling being done on him. The latest is from Vernon Small: The sharp-suitor, and my own blogpost, David Clark: The political rise of 'a nice guy'.
* 'Great that we're the best, sad that this is the best'. That is one response to New Zealand topping an international survey on the best places for working women - see Nicholas Jones' It's a start - NZ women get ahead.
* Why do citizens of former pacific colonies have fewer rights as visitors and migrants than Australians asks John Minto in Pasifika, Polyfest and our racially-biased immigration policy.
* Is the Government doing enough about job creation and economic growth? Businesspeople apparently think not. According to one survey, over two-thirds of employers rate the Government's performance on these two issues as being less than five out of ten - see Greg Ninness' How well is New Zealand working?.
* Is another blog war brewing? 'Some social media experts speculate that when future generations look back on the blogosphere and the reasons for its demise, they will find millions of Pete George comments and conclude that it died of boredom'. That's Scott Yorke taking a poke at the determinedly centrist 'Your NZ' blogger in Internet hero just trying to make world a greyer place.
* Finally, what sort of young people join political parties? You can find out via Toby Manhire's excellent collation of images of MPs visiting their fan clubs on university campuses - see: Down with the kids: NZ politicians with the next generation.