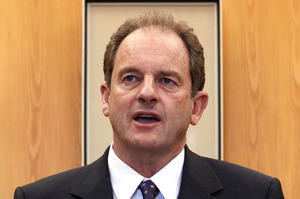 For the country's diplomats worried sick about losing their jobs comes this piece of stress-relieving advice courtesy of the "change management" consultants hired by the Ministry of Foreign Affairs: Think about getting a pet.
Why? Because a pet's love is unconditional. Unlike the ministry's "love", presumably.
You get what you pay for and $340,000 all up for advice from two sets of consultants gets you other suggestions for chilling out - like soaking in a hot bath, doing yoga or tai chi, and keeping a journal ("a marvellous way of putting things into perspective"). And - if all else fails - pray.
You don't have to be a psychic to work out what ministry staff would have thought of this demeaning and insulting pap. The phrase "barking mad" comes to mind.
But there is more than one way of skinning your cat (or dog). The material detailing the consultants' advice inevitably fell into Labour's hands.
David Shearer made the most of it in Parliament yesterday. During question-time, he asked the Prime Minister how forking out $340,000 for advice on the ministry's restructuring contributed to National's promise to boost so-called frontline services through savings at head office.
Lacking forewarning of Shearer's line of attack, John Key could only parry it by arguing that the magnitude of the restructuring might well justify seeking such advice.
Shearer then delivered the heavy body punch by asking Key if he agreed with the adviser's "helpful suggestions" for feeling less stressed. Damned if he did agree and damned if he didn't, Key employed the time-honoured tactic for getting out of a hole: create a distraction by bringing up something totally irrelevant - like his cat. "I haven't seen the report ... but when it comes to Moonbeam, yes, her love is unconditional to me," Key purred.
The House is learning a lot about love in the Key household. On Tuesday, Shearer had asked Key if he stood by all his recent statements.
Yes, Key replied, especially the one telling his wife he loved her.
Key wiped the floor with Shearer in that encounter. But yesterday, Shearer bounced back, having his best question-time since becoming leader before delivering his most assured speech yet, with only scant notes for assistance.
For both leaders, however, the rapid ups-and-downs of the past two days confirmed the famous adage about politics coined by the infamous former Queensland premier Sir Joh Bjelke-Petersen - one day you're a rooster and the next you're a feather duster.
And Key and Shearer have a lot more feathers (or fur) to lose before their particular fight is finished.